Pen Pals Letter Writing: 84, Charing Cross Road by Helene Hanff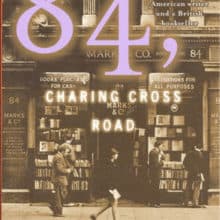 We are looking at the Pen Pals book 84, Charing Cross Road by Helene Hanff.  We've got a Round Tuit; a short YouTube interview from TCM with Robert Osborne and Mel Brooks; and we wrap up with recalling the joy of getting the remaining five books for The Three Musketeers from a Used & Rare Book Store for my set of six, taking several years to complete!
Get out a cup of coffee, hot tea, and/or diet coke, and enjoy today's post! Today's topic of this book is one I've had on my list to include before realizing my 1000th daily blog post, which will be in three days – on Tuesday, November 21, 2017!
Round Tuit
We can also categorize today's post under "tuit", as in getting around to it. From my December 31, 2015, post: "Next year will include topics as varied as "84, Charing Cross Road" Helene Hanff,  …"   
Recently I was able to have the luxury to sit down undisturbed (albeit on an airplane) and read the book from start to finish!  It was important that I had read the book before sharing it here with you on my blog.  More on my personal copy of the book later in today's post!
84, Charing Cross Road by Helene Hanff
It is an epistolary memoir of almost 20 years with "a compilation of letters between herself and Frank Doel dating from 1949 to 1968″. 
First of all, I loved this book! The pursuit of a person wanting to locate hard to find British literature living in New York City, who ends up corresponding with a person who is the buyer at an antique bookseller in England is wonderful.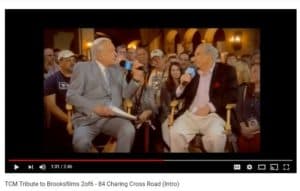 Second, you may have already seen the 1987 movie with Anne Bancroft, Anthony Hopkins, and Judi Dench. I'm including a brief TCM interview with Bancroft's husband, Mel Brooks who was Executive Producer for the film.
Third, having seen the movie for the first time last month – just a few weeks before reading the book, I have to admit I was influenced thinking of the movie actors in those roles when reading the book. I'm a fan of the movie too, so reading the book after having seen the movie was fine for me.  If you have not already done so, I hope you will get a copy of the book and read it! Also, I hope you'll enjoy the movie too.
The Three Musketeers Recalling My Quest with a Used & Rare Book Store
I'm still recalling years ago, prior to dial-up access to the internet, discovering there were actually six books all to do with The Three Musketeers.
There at the end of the book after completing it, right after "The End", it had a Note "For the information of the reader". It was informing "Dumas' Historical Romances should be read in their chronological order, as follows…"
My quest began and it took several wonderful years with having a postcard on file at a bookstore in Chapel Hill to acquire the other five books! I remember the joy when opening the mail and a postcard would announce one of the books had come into their stock. This was all before the days of going online for what would now be several search engine inquiries and maybe sooner realized; however, I enjoyed the quest and its process.
Back to the rest of the story on my personal copy of the book. In my non-stop flight, at the end, a fellow passenger longingly looked at my book sharing she was getting on another airplane for yet another flight! My personal copy I enthusiastically gave away to her hoping it will spark enthusiasm for her to become a letter writer! I'm now putting a good used copy of the book onto my Christmas Wish List for Santa, Cooper was just asking me what I was wanting this year!

Anchors Aweigh,  
Helen
P.S. From my 1928 First Modern Library edition of The Three Musketeers, this is the sequence they list.
"Note.-For the information of the reader, Dumas′ Historical Romances should be read in their chronological order, as follows:  "1st, The Three Musketeers. 2d. Twenty Years After. 3d. The Vicomte de Bragelonne. 4th Ten Years Later. 5th. Louise de la Vallière. 6th. The Man in the Iron Mask."g 
---
84 Charing Cross Road by Helene Hanff Attribution & Thank you to the following I'm referencing today for my daily blog post encouraging letter writing –
Goodreads, 84, Charing Cross Road by Helene Hanff, Image, excerpt.
Wikipedia, 84, Charing Cross Road, excerpt.
TCM Tribute to Brooksfilms 2 of 6 – 84 Charing Cross Road (Intro), Image of YouTube Clip
AnchoredScraps letter writing posts: "Auld Lang Syne" & Tribbles (& December 2015 AnchoredScraps Recap) 12-31-2015; Finally Writing Round Tuit Letters on 5-30-2017.
You may also enjoy the 1948 epistolary novel by Thornton Wilder when looking at my blog post: Thornton Wilder 1997 Stamp & The Ides of March, 3-15-2016;  And from 2015 the epistolary novel "The Guernsey Literary and Potato Peel Pie Society" (A Novel), 10-11-2015.