Alzheimer Upcoming Semipostal Fundraising Stamp & #Blogchat Tonight!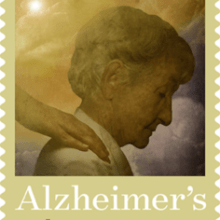 Alzheimer Upcoming Semipostal Fundraising Stamp is today's Sunday blog post topic. The dedication for the new stamp is to take place on November 30th and will become available for 60 cents each. Before we cover the stamp, I'm excited to share with you about #Blogchat for tonight!
Mack Collier #Blogchat
On this Sunday before Thanksgiving, today is daily blog post #998.  It is a delight to share tonight on Twitter, I'm being interviewed by @MackCollier on #Blogchat.  In his blog post today, his post is entitled: "How Do You Blog Every Day For 1,000 Straight Days?"
If you are new to my blog, in my first blog post here at AnchoredScraps, "There's Been Talk!", February 26, 2015, I reference the fantastic advice of Mack Collier with his 4 W's of Blogging for determining the scope of my blog. Also, in that first post, I share the inspiration for naming my blog from my recently losing my Dad; and share the motivation of reading Seth Godin finding his latest book at the time "a true call to action to not let the "lizard brain" get the best of you but to take your turn".    In my 2016, and 2017 WordCamp presentations I continue to reference my first blog post including the inspiration of Seth Godin, and the impacts of Mack Collier 4W's giving clarity for Blogging!
Back on October 8th, we first started thinking about having me on Blogchat, given that was daily blog post #956. My thanks to Mack in advance for hosting me tonight!
About the Alzheimer Upcoming Semipostal Fundraising Stamp
First, I'm happy to see the awareness this stamp is helping to raise and to fund research.  In addition,  I know I'm not alone with the impact of having a loved one with Alzheimer's; I'm already having tears swell up thinking about it.
Here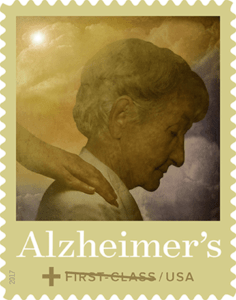 are some details on how the purchase price of the 60 cent fundraising stamp works.
"The price includes the first-class single-piece postage rate in effect at the time of purchase plus an amount to fund Alzheimer's research. By law, revenue from sales of the Alzheimer's Semipostal stamp — minus the postage paid and the reimbursement of reasonable costs incurred by the Postal Service — will be distributed to the National Institutes of Health, which is part of the U.S. Department of Health and Human Services. …

The event is free and open to the public. RSVP is required to attend the ceremony. Please RSVP at usps.com/alzheimers.
The article goes on to give viewing the first-day-of-issue ceremony live details, and how to pre-order the stamps.
In conclusion, I hope you'll consider adding these stamps to your collection of what you use for sending your letters in the mail.
As we wrap up today's post, and in preparing for this evening, it continues to amaze me how the cumulative impact of our precious free minutes each day adds up! Thank you for continuing to be on this daily blog post journey with me. Yesterday I was able to get out a lot of Thanksgiving cards in the mail. Tomorrow I'll get out the rest of them.  You still have time to get a note of Thanks off into the mail to family and friends!  See you tonight at #Blogchat!

Anchors Aweigh,  
Helen
---
Alzheimer Upcoming Semipostal Fundraising Stamp & #Blogchat Tonight! Attribution & Thank you to the following I'm referencing today for my daily blog post encouraging letter writing –
Alzheimer Semipostal Fundraising Stamp  U.S. Postal Service Previews Alzheimer's – Semipostal Fundraising Stamp Image – Dedication to take place Nov. 30, November 02, 2017, USPS National News,  Contact Mark Saunders, excerpt. #AlzheimersStamp
Virtual Stamp Club, Alzheimer's semi-postal (U.S. 2017), Image USPSStamps
Mack Collier, "How Do You Blog Every Day For 1,000 Straight Days?" , November 19, 2017, @MackCollier
AnchoredScraps First Blog post: There's Been Talk, February 26, 2015, Letter Writing Desk Must Have – Hallmark Peanuts Typewriter Sentiment Holder,  10-08-2017; by Helen Rittersporn.