Finding Disney Villains Postcard Set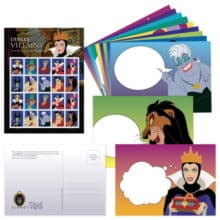 Finally finding the Disney Villains Postcard Set information is a joy to share today!
When I first saw this postcard set it has been elusive to find them for ordering.
With the arrival today of the U.S. Postal Service Gifts & Collectibles Catalog 2017, Delivering Cheer A Winter Wonderland of Gifts, there it is on pages 44 & 45. This is the link to the USPS Stamps listing.
Disney Villains Postcards with stamps
"The set includes two each of 10 Disney Villains postcards with speech bubbles on the front that allow you to personalize them with your own message. Also included is a pane of 20, Disney Villains from the Walt Disney Studios Ink & Paint Department Forever® stamps."
Furthermore, back on June 23rd, we looked at the USPS Disney Villains Stamps Available July 15 in my post. I'm ordering these right away!
As we wrap up today's post, have fun considering adding them for use with your postcards for writing notes to friends and family!

Anchors Aweigh,  
Helen  
P.S. Join me tomorrow as we wrap up the month with my November Daily Blog Recap.
---

Finding Disney Villains Postcard Set Attribution & Thank you to the following who are referenced today
Disney Villains Postcards with stamps, @USPSStamps, Images, excerpt.
AnchoredScraps USPS Disney Villains Stamps Available July 15 6-23-2017