#GivingTuesday 2017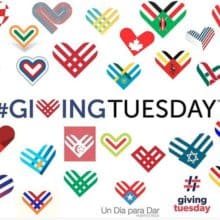 Today is #GivingTuesday 2017, on November 28th.
Just like last year, I'm including links to the Wilmington Area Rebuilding Ministry, Homefront Hugs USA, and 

Wreaths Across America.
Furthermore, the event started in 2012 describes itself at its website as follows.
"#GivingTuesday is a global day of giving fueled by the power of social media and collaboration.
Celebrated on the Tuesday following Thanksgiving (in the U.S.) and the widely recognized shopping events Black Friday and Cyber Monday, #GivingTuesday kicks off the charitable season, when many focus on their holiday and end-of-year giving."
#GivingTuesday 2017
Here is a listing of three groups for your consideration with #GivingTuesday 2017 and/or on any day: Wilmington Area Rebuilding Ministry, Homefront Hugs USA, and Wreaths Across America. All three of these groups I have personally supported before and will again this year.
 

WilmingtonAreaRebuildingMinistry

This link will take you to their photo gallery, scroll down to see Before & After photos.

"WARM organizes volunteers and raises funds to complete safety-related urgent home repairs and accessibility upgrades for low-income homeowners in Brunswick, New Hanover and Pender Counties.  …"

Their Writing Our Troops program not only sends cards and care packages, but the cards are not just signed – they are more chatty like a real hug.

 Wreaths Across America

From my Veteran's Day post earlier this month, "If you have a Veteran or a loved one wanting to remember at one of 1200 WAA participating locations, please visit the Wreaths Across America website. Also, there is the Air Force Academy Wreaths Across America."

The deadline for donating wreaths ($15 ea) for veteran graves is Giving Tuesday, 11/28/17; Sponsoring Remembrance Wreaths.
In addition, you can visit the #GivingTuesday 2017 website.
And lastly, thank you for volunteering your time. Thank you for the donations you make. Thank you for lending your voice. And especially, thank you for the items you give helping to support others throughout the year. Like the Homefront Hugs USA listing above, it really can be as simple yet so wonderfully welcomed as handwriting a letter!

Anchors Aweigh,  
---