Garden Flowers Notecards Stationery from USPS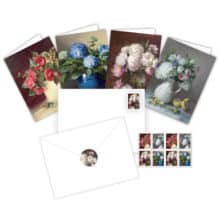 Garden Flowers Notecards Stationery is how I'm classifying these beautiful Flowers From the Garden Notecards at the USPS.
Hello Thursday! To begin with, this morning if the weather may be feeling more "Fall-ish" these notecards are inspiring to see. With letter writing, I'm always wanting a variety of stationery to use.
Flowers From the Garden Notecards
First, the USPS is pairing them with their USPS Flowers from the Garden Forever Stamps, which we were looking at back in July.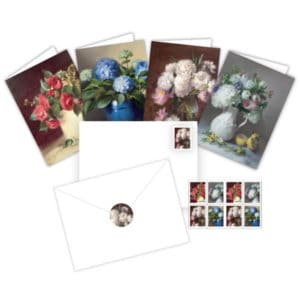 Furthermore, what I really like are the corresponding seals that are in the package too!
"The set includes 8 notecards (2 each of 4 beautiful flower designs), 8 envelopes, 8 seals, and 8 Flowers from the Garden Forever stamps."
In conclusion, I'm mentioning Thanksgiving is two weeks from today!  I'm already starting to think about writing short letters of Thanksgiving to include with my Thanksgiving cards.  Did you notice the operative wording? "thinking about!" Alas, right now this is in my "best of intentions" list, perhaps you'll begin THINKING about it too!

Anchors Aweigh,  
Helen
---
Garden Flowers Notecards Stationery Attribution & Thank you to the following I'm referencing today for my daily blog post encouraging letter writing –
USPSStamps Flowers From the Garden Notecards, excerpt, image. @USPSStamps
AnchoredScraps FlowersFrom the Garden Forever Stamps 7-18-2017