Inspired Postal theme Dog Love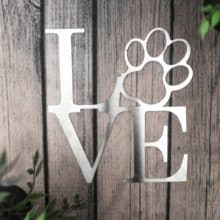 On this first Sunday in November we are looking at the Inspired Postal theme Dog Love by Redline Steel. I'm describing the Dog Love item as part of their Stainless Steel Decor Art. I'm envisioning putting this on the screened-in porch, outside, or inside the house.
This item states to allow 4 to 6 weeks for delivery so I'm sharing about it NOW to allow time for ordering for Christmas!
First, my Special thanks to stamp club buddy Jimmy for emailing me on Thursday about it.
Second, I've already ordered this item. The following day an email arriving in my inbox thanking me for my order was a lovely surprise, more about the email in a minute.
Third, Back on Valentines 2016, my post was on the Love series of stamps the US Postal Service began introducing in 1973.
Dog Love by Redline Steel
The pricing for the entire order came to $28.00 including shipping. They are accepting PayPal.
"Made from High Quality Stainless Steel! Stainless Steel can be used inside or outside without ever rusting. This product is polished to give the brushed stainless look…"
So now back to the email. The email thanking me for my order was sent with a nice message and signed by Colin Wayne with Redline Steel. There was no Title in the email, nor images – it was just a simple sincere email. In looking up about the company for writing today's blog post I discover the sender of the email is the Founder and CEO of the company! My point in sharing this is how nice the entire process has been in ordering this for Cooper.

Our Brittany Spaniel, Cooper, is now 19 months old. Please don't tell Cooper what Santa Paws is bringing him this Christmas! 

Anchors Aweigh,  
Helen
---
Inspired Postal theme Dog Love by Redline Steel Attribution & Thank you to the following I'm referencing today for my daily blog post encouraging letter writing –
Redline Steel, Image, and Excerpt, Dog Love, @redlinesteel