Pure Sea Glass Boxed Note Cards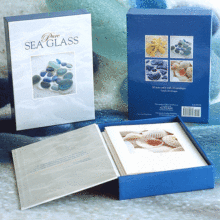 Looking at these Pure Sea Glass Boxed Note Cards Stationery finds me wanting to pack a picnic and heading for the beach!
With Christmas one month from today, I'm finding myself still enjoying pumpkins on this Thanksgiving weekend. The Christmas decorations will be out soon enough!
In future blog posts here, I'm going to be addressing things we can DIY for our letter writing, with a combination of frugality and simplicity as we head into the Holidays.
With that said these beautiful Pure Sea Glass Boxed Note Cards is our blog topic on this Saturday.
Pure Sea Glass Boxed Note Cards
"This set of 20 notecards features four sea glass photographs by Celia Pearson from the book Pure SEA GLASS. The 5 x 7 inch blank cards are presented in a glossy keepsake box with a hinged lid, magnetic closure and satin ribbon lift. Each card has a quote on the back by Pure SEA GLASS author Richard LaMotte. When empty, the unique box is perfect for storing personal treasures. Ideal as a gift or for personal use, these will surely make a lasting impression in any season."
If you are new to my blog, you will enjoy my post from June on  Sea Glass Variety Postcard Prints.   Join me tomorrow for my Sunday blog post. In the meantime, see if you don't go rounding up your bits of sea glass around your home this weekend!

 Anchors Aweigh,  
Helen
---
Attribution & Thank you to the following who are referenced today
ATTheLake website Pure Sea Glass Boxed Note Cards Price:
$18.95; 
Item Number:
50549990000008
AnchoredScraps Sea Glass Variety Postcard Prints 6-10-2017