Chipmunk Christmas Snow Globe Stationery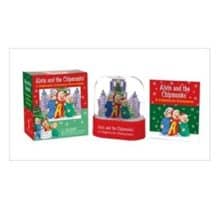 Combining snow globes and chipmunks on this Saturday finds me a bit whimsical with Chipmunk Christmas Snow Globe. 
I'm also including with this post – The Chipmunk Song (Christmas Don't Be Late), from a previous post back in 2015. Today is daily blog post #1025 since launching AnchoredScraps!
Alvin and the Chipmunks: A Chipmunk Christmas Snow Globe

 
"This kit will delight Chipmunk fans of all ages! Kit includes a snow globe containing a scene of Alvin, Simon, and Theodore caroling with a large Christmas Tree and a Rockefeller Center-like setting in the background, plus a 32-page book retelling the Chipmunk Christmas story, featuring full-color illustrations."
The Chipmunk Song (Christmas Don't Be Late)  – it won three Grammy Awards  in 1958

Although originally the posting was including Stationery in its title description, I'm not seeing that to be the case, just more as a category. This snow globe is one of "those" items that caught my eye and I found myself ordering it, when it arrives I'll find out the rest of the story if this is a miniature snow globe. What I really need to find is a Chipmunks Christmas music box complete with Hula-Hoops and playing the song! It will be fun to share with I end up receiving in a future post and to a pen pal! Happy Saturday!

Anchors Aweigh,  
Helen
---
Chipmunk Christmas Snow Globe Attribution & Thank you to the following who are referenced today
Christmas songs: Hula-Hoops & hippopotamuses 12-23-2015
Alvin and the Chipmunks: A Chipmunk Christmas Snow Globe Stationery, image, with Barnes & Noble description 
YouTube:  1958 HITS ARCHIVE: The Chipmunk Song – David Seville (original #1 hit single mix) posted by MusicProf78