SkyGoodies 2018 DIY Printable Desk Calendar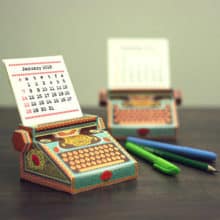 The SkyGoodies 2018 DIY Printable Desk Calendar Papercraft – arriving in time for Christmas is a letter writing gift idea for this blog post.
With today being December 15th, we may find ourselves looking for a quick weekend project for Christmas gift ideas for sending to Pen Pals, especially if they like typewriters!
Furthermore, the SkyGoodies 2018 DIY Printable Desk Calendar reminds me of LeafCutter Designs of their Kickstarter for World's Smallest Post Service Kit.
"Here's a quaint little 3D Paper Desk Calendar for your mantelpiece, table-top or shelf… in the form of a typewriter, with 24 month cards with dates, for 2017 & 2018. The body of the typewriter has been lovingly illustrated with intricate patterns and details.

Ready-to-print on an A4 size printer, and easy to cut and assemble, with just scissors and glue. …"
To read the entire details click here – includes home printing instructions. It is set up for printing on your home printer, or an online photo lab of your choice.
Thank you for joining me today. We may discover this gift idea is just our type! 

Anchors Aweigh,  
Helen
---
SkyGoodies 2018 DIY Printable Paper Desk Calendar Papercraft Attribution & Thank you to the following who are referenced today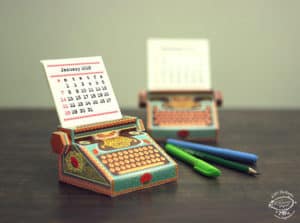 SkyGoodies 2018 DIY Printable Paper Desk Calendar Papercraft – Etsy, Images, excerpt
You may also enjoy AnchoredScraps Cyber Monday 2016 Stationery 11-28-2016; World's Smallest Post Service Kit Kickstarter 9-12-2017