Cooper's Easter Greetings 2018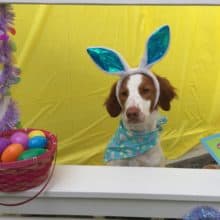 For our blog post on this Easter Sunday, I'm sharing these photos for Cooper's Easter Greetings 2018.
Although it is also April Fools' Day – these photos are not; they truly are of Cooper "helping" out the Easter Bunny!
Cooper's Easter Greetings 2018
Easter this year found us today on the road for a day long trip up to see family for a special Easter Dinner. Receiving these photos from Pawville of our Cooper are especially sweet and so appreciated!
The middle of this month he will be turning two years old. My thanks to Pawville Surf City, NC for the photos.
Furthermore, I'm including a listing of previous daily blog posts I've written on Easter Sunday the past three years.
As we wrap up today, my sincere thanks for the Easter cards and Lenten letters this year. Join me tomorrow as we kick off the new week and I'll be resuming my normal closing of my daily letter writing blog posts.
Happy Easter 2018!
---
Attribution & Thank you to the following who are referenced today
Special Thank you to Pawville for the photos!
You may also enjoy AnchoredScraps daily blog post Cooper and Vintage Puppy Postcards 6-13-2016