On this Friday over at the NC Blogger Network their latest "Meet Our Members" series is featuring Yours Truly: "Meet Helen of Anchored Scraps"; it covers ten questions about my continuing to blog daily for over three years and still posting daily. My sincere Thanks to Trish Forant, Blogger-In-Chief at #NCBN.
Talk about serendipitous timing – today is daily blog post #1,150 for AnchoredScraps encouraging old-style letter writing correspondence!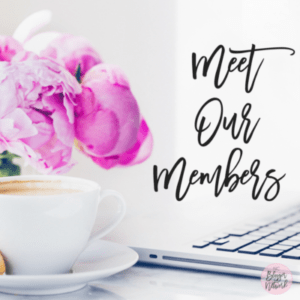 To begin with, the NC Blogger Network is a group I have joined within the past year. Another thing I really enjoy is seeing all of their daily Twitter posts. In addition, from their About Page:
 "NC Blogger Network is North Carolina's premier community for bloggers. We provide a positive, inspiring, supportive community for bloggers to get resources, education, and the tips you need all in one place – plus the opportunity to work with brands you know and love."
NC Blogger Network MEET HELEN OF ANCHORED SCRAPS April 20, 2018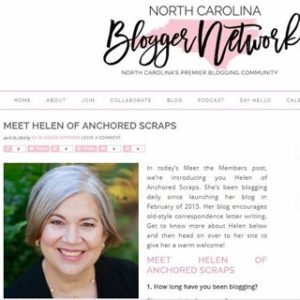 Thank you to the North Carolina Blogger Network for reaching out to me to feature me in their Meet the Members Series.
"In today's Meet the Members post, we're introducing you Helen of Anchored Scraps. She's been blogging daily since launching her blog in February of 2015. Her blog encourages old-style correspondence letter writing. Get to know more about Helen below and then head on over to her site to give her a warm welcome!"
Furthermore, the article "Meet Helen of AnchoredScraps" at the NC Blogger Network covers ten questions.  I'm including the list of questions here, and of course the answers are here; It was a joy to include referencing posts including @MackCollier @ThisIsSethsBlog @iammrvandy @MakeBeliefs4U @LandJmagazine #typosphere http://thefarmerswifequilt.blogspot.com. I'm also including a image linking to the article at the end of today's post.
"How long have you been blogging?  Why did you start blogging? What do you blog about? Where are you blogging from in NC?  Out of all the posts you've written, which one (or two) would you pick as your favorite?  What blog(s) do you love? What's one piece of advice you'd offer your fellow bloggers? What are three things do you know to be true? Where can we find you on the web? And finally, is there anything else you'd like to add that you want people to know about you".  
In conclusion, it continues to be a joy to blog here daily encouraging old-style correspondence letter writing. I'm going to have to get a snail mail address for Trish to send her a "proper" Thank You note!   Happy Friday! Join me tomorrow for my Saturday blog post as we look at letter writing items of interest!

 Anchors Aweigh,
Helen  
---
Attribution & Thank you to the following who are referenced today
North Carolina Blogger Network website, Images, excerpt @NCBlogNet; Meet Our Members Series
You may also enjoy – AnchoredScraps daily blog post: My First Guest Podcast Appearance on WordPress Blogging 4-11-2018.
I'm also including a image linking to the article too.