It is a delight to write today's blog on My First Guest Podcast Appearance on WordPress Blogging. It is an honor to be in Episode 11 of "The Blog You Want In The Time You Have Podcast"; it is hosted by Scott Winterroth, Blogging Instructor and Co-Founder of Content Academy in Chicago.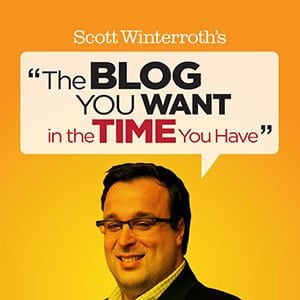 This was my first podcast guest appearance on "The Blog You Want In The Time You Have Podcast", which was posted today and it was so much fun! Before starting, my sincere thanks to Scott for inviting me. Also I would be remiss if I did not have this shout out at the beginning today mentioning #blogchat on Twitter hosted by Mack Collier, the ongoing inspiration of Seth Godin, the team at Feedblitz (this is the email subscriber service AnchoredScraps uses and loves!), and a big cheer for WordPress.TV that provides videos of WordCamp presentations.
To begin, Scott had found me via my WordPress.TV WordCamp presentations which I'll include at the bottom of today's blog post.
"Blogging is a powerful way to grow your visibility online, share your insights with the world and build influence." – Scott Winterroth
The 40 minute Podcast flew by quickly!  Spoiler Alert! During the podcast he has already invited me back as a guest this summer.  This is the link to my first AnchoredScraps blog post, "There's Been Talk!"  from 2-26-2015, which I reference in the podcast including here for easy access.
The Blog You Want In The Time You Have website; On Twitter:@BlogYouWant , image, excerpt
AnchoredScraps blog posts: AnchoredScraps 1100th Daily Blog Post Today 3-01-2018; AnchoredScraps WordCamp Wilmington 2017 Postcards 9-22-2017; Christmas Sweggings & WordCamp Speaking 12-16-2016; and  WordPressTV: Top 9 Lessons From Daily Blogging For Over 900 Days & Still Counting; WordPressTV: Lessons From Daily Blogging For Over 600 Days and Still Counting…
Also, I'm including these two Tweets from today, April 11, 2018 with images and links to them.