Polka Dot Paper Company: Open this When Stationery Set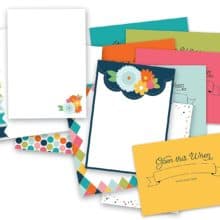 For today's blog post we are looking at the Open this When Stationery Set; it is by the Polka Dot Paper Company, of Austin, Texas.     Also, please join me in a warm welcome to our new AnchoredScraps email blog subscribers. If you are new to the idea of writing letters to send – today's post may be a great starting point!
Open this When Stationery Set
"How great would it be to gift a stack of letters, hand written by you and ready to read, when it's needed the most? This kit was designed just for that!"
The set includes Six coordinating writing papers (3 double sided!), and Six assorted, printed envelopes with the phrase "Open this When".
Suggestions for use include: "Write a series of letters for a loved one. Makes a great gift for someone in college or the military."
"The Polkadot Paper Company designs paper goods and products that encourage women to Celebrate Today, Cherish Yesterday, and Plan for Tomorrow."
I'm going to be spending more time in the next few weeks looking at stationery and some wonderful stationery stores I've visited personally – stay tuned! Join me tomorrow as we greet Friday and head into the weekend.

 Anchors Aweigh,
Helen  
---
Attribution & Thank you to the following who are referenced today

Polka Dot Paper Company website; excerpt.
Open Me When Stationery Set image, excerpt
You might also enjoy AnchoredScraps blog post: Ginger Mail Stationery Subscription Service 1-16-2018; Owl mail Treetop Tidings Fold and Mail Stationery 2-15-2017