With Summer here, it is fun seeing this set of 12 Camp Postcard Booklet by Peaceable Kingdom. Happy Saturday!
Over the past three years, there have been several Letter Writing posts showcasing Summer Camp! I'm including a partial listing towards the conclusion of today's post. My favorite of them is still the "Letters from Camp" post from 7-22-2015.
"A colorful way to keep friends and family a mailbox away."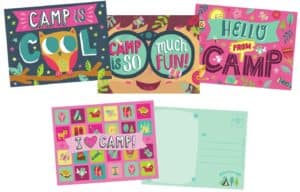 The Postcards from Camp pricing is right under Ten Dollars. There are three each of four designs in the twelve camp themed postcards; simply tear out and send.
"All you need is a message from the heart (and a stamp)! Decorated with brightly colored camp themed graphic art, these delightful cards will bring a smile to anyone anywhere. Postcard back has the perfect space for a quick note from your child, an address and a stamp. Share a postcard filled with your favorite memories with anyone, anywhere!" …
In addition, there is this recognizing letter writing with postcards from camp!
"FUN INTRO TO LETTER WRITING: What better way to introduce kids to letter writing? Short letters on postcards make writing a fun form of communication and isn't overwhelming to the beginning writer."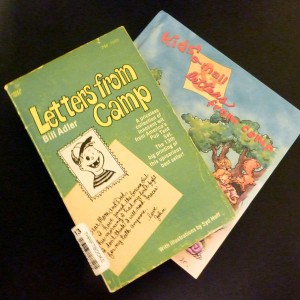 As we wrap up, here is a partial listing of AnchoredScraps Summer Camp Letter Writing.
Wishing you an enjoyable day!

 Anchors  Aweigh,
Helen 
---
Postcards from Camp Postcard Booklet Attribution & Thank you to the following who are referenced today
Peaceable Kingdom Postcards from Camp, image, excerpt, link above
AnchoredScraps blog posts listing above.