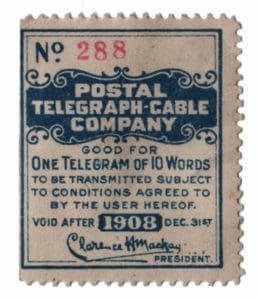 For our letter writing interests we are looking at Telegraph Stamps for kicking off the new week! The image I'm showing is of the 1908 Postal Telegraph-Cable Company.
To begin with, over at This Day in History, today 1911 August 20, History.com they are remembering the "First around-the-world telegram sent, 66 years before Voyager II launch".  More on that in a minute.
About the 1908 Telegraph Stamp for the Postal Telegraph-Cable Company
"Telegraph stamps were used by private companies for use on their own telegrams.  The stamps showed payment for the telegraph service fee …  Customers filled out a form, …"
Furthermore, to read more about the Telegraph Stamp, click here for Mystic Stamp Company Telegraph Stamps – Document the Growth of America.
1911 August 20, History.com First around-the-world telegram sent
We are looking at this article over at History.com today; I'm including the link here for reading more about it.
"On this day in 1911, a dispatcher in the New York Times office sends the first telegram around the world via commercial service…

The Times decided to send its 1911 telegram in order to determine how fast a commercial message could be sent around the world by telegraph cable… –the reply was received by the same operator 16.5 minutes later…"
Before wrapping up, a warm welcome to the new email blog subscribers here at AnchoredScraps!
In conclusion, thank you for joining me today. Even in the midst of so much rapid change, I love being able to be in both the now digital and analog worlds – all the while with connecting with snail mail.

 Anchors Aweigh,  
Helen 
---
Telegraph Stamps – 1908 Postal Telegraph-Cable Company Attribution & Thank you to the following who are referenced today
MysticStampCompany, image, excerpt
History.com, excerpt
Here are some of the previous AnchoredScraps blog posts with Telegrams & Telegraphs in the focus