Adding to last Thursday's post on Vintage Steampunk Typewriter Keyboard we are looking at Steampunk Telegraph Key Mouse Tails today.
We have celebrated the Telegraph and Morse Code here before so to have a nod to the telegraph key merged in this way with Steampunk and a mouse is a lot of fun!
The Locusograph,
A Steampunk Telegraph
Key Mouse Mod
Over at the instructables web site are instructions on building your own Locusograph, A Steampunk Telegraph Key Mouse Mod.
Love that the person says:
"…I got this idea from looking across at my uncle's old J-38 telegraph key sitting on the shelf. "
There are pdf instructions available to view and download taking you through nine steps beginning with planning through to an Addendum.
I'm including the one minute video that shows it being used.
"Short and messy demonstration of Emblik's Locusograph, the Electric Positional Elucidator. (A steampunk mouse mod using a telegraph key.) This is an accompaniment to the Instructable on this project."

Be sure to read the disclaimer in The Locusograph alongside the video taking "no responsibility for any damage done to your mouse, your telegraph key, your computer (since you're plugging this into it) or any solder burns you inflict upon yourself. "
Datamancer Telegraph Mouse
It would be remiss of me to just jump in and talk about the Datamancer Telegraph Mouse without first mentioning about Datamancer products overall.  Their website products have custom offerings with time waits and prices expected for the uniqueness of what they are doing.  They offer keyboards, displays, mice, accessories, keycaps, and Sets.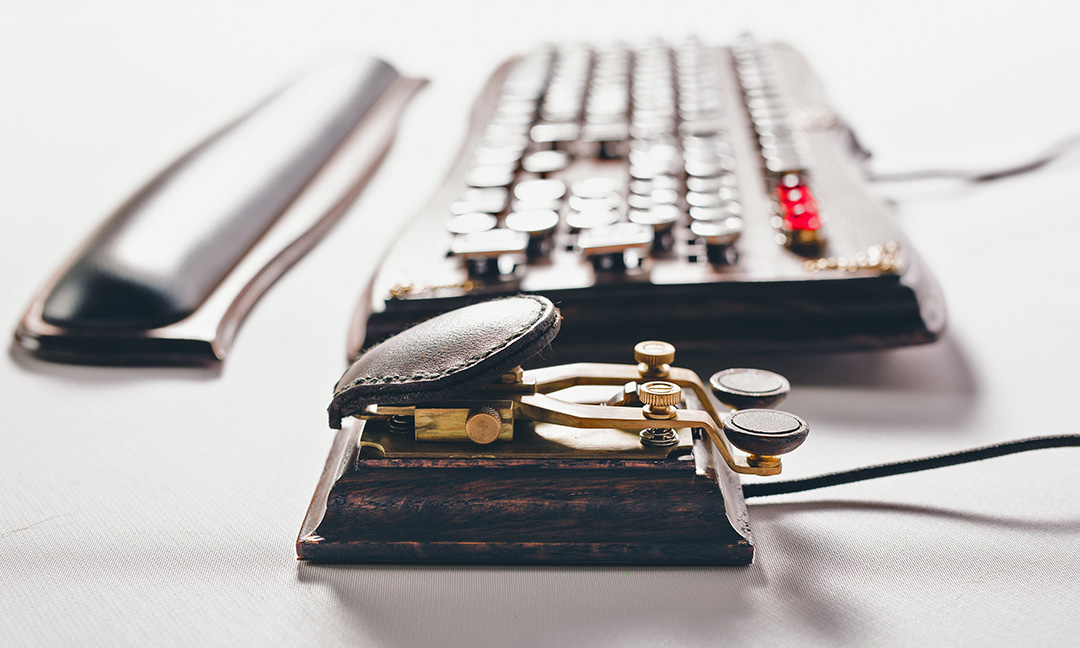 From their About page – "… The idea was to build a full computer station from every significant artistic decade in history. From Art Deco, to Victorian, and even back to Gothic design." …
Our focus today is on their Datamancer Telegraph Mouse.
"…Richard Nagy (The original Datamancer) had the idea to combine these two amazing hand-operated devices into one. Making a computer mouse that hearkened back to the idea of a clicking telegraph key. The Datamancer Telegraph Mouse is a computer mouse constructed from brass and oak components and designed with a vintage telegraph style. It features a comfortable leather palm rest and vintage telegraph knob arms for the mouse buttons."
It is listed at $550.00.  You read that price right; however, after reading all the steps above for The Locusograph DIY, I can see how involved it is to create one.
For my fellow Morse Enthusiasts, I'm hoping today's blog post on Steampunk Telegraph Key Mouse Tails may find you entertaining the idea of building one of these yourself or getting someone to make one for you.  Stay Tuned!
Anchors Aweigh,  
 Helen  
---
Steampunk Telegraph Key Mouse Tails Attribution & Thank you to the following who are referenced today
The Locusograph, A Steampunk Telegraph Key Mouse Mod by Emblik in steampunk. Upper left image, Excerpt.
YouTube DSCN0978 posted by Alexander Emblik. Published on Aug 10, 2012.  Description quoted above.
Datamancer Telegraph Mouse Image, Excerpt.
AnchoredScraps.com blog post: Vintage Steampunk Typewriter Keyboard January 12, 2017 by Helen Rittersporn.