Dear Friend Typewriter Postcard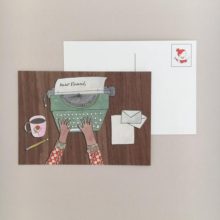 Seeing this handmade Dear Friend Typewriter Postcard over at Etsy for sale I'm wanting to order one!
First, it has been really busy with activities associated with Hurricane Florence aftermath today. Second, from a rotation point of view Typewriters are on my mind and so seeing this postcard looks like a perfect one for my post.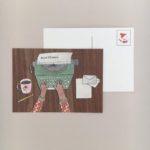 Dear Friend Typewriter Postcard by RedHerringFactory Etsy Shop
The pricing is listed at one dollar for the 4 x 6 postcard.
"Collage of hand drawn and painted image with screen printed paper."
To view it and for ordering click here.
I'm off to go work on more Hurricane Florence stuff.  Here's to hoping things are going well for each of you. 

Anchors Aweigh,  
Helen
---
Attribution & Thank you to the following I'm referencing today for my daily blog post encouraging letter writing –
Dear Friend Typewriter Postcard by RedHerringFactory Etsy Shop
You may also enjoyAnchoredScraps Steampunk Texting Machine Postcard Printable 5-29-2018