USAF Thank You Notecard Stationery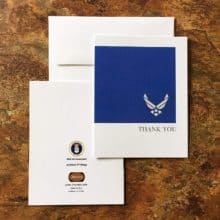 With the US Air Force having its 71 years birthday today, we are looking at the USAF Thank You Notecard Stationery Pack.
First, it was surprising to not find any kind of pictorial postmark for a philatelic tie in with today's date.
Next, I'm sharing from the Dayton Daily News today, their article about the USAF celebration.
"The United States Air Force is celebrating its 71st year today.

The Air Force was separated into its own military branch in 1947 during peace time, just a few years after the end of World War II. Today the Air Force has more than 50 installations around the U.S., including Wright-Patterson Air Force Base near Dayton…"
USAF Thank You Notecard Stationery Pack
This stationery set is labeled as the "Official product of United States Air Force'.
I'm seeing the pricing at $18.95 for the stationery pack set.
"Set of 8 USAF Thank You Note Cards, Blank Inside with 8 Square Flap Envelopes (A2)
Size of cards: 4 1/4 x 5 1/2 inches
Comes packaged in clear cello bag with USAF trademark hologram sticker…"
Thank you for joining me today. Before wrapping up, if you haven't read my blog in a few days, be sure to read my post from Saturday, "With Gratitude and Thanks" (9-15-2018). Today was an amazing day experiencing more than once the kindness of strangers. I'm already composing in my head the thank you letters and notes to send.
I'm closing with Happy Birthday United States Air Force!

Anchors Aweigh,  
Helen
---
Attribution & Thank you to the following I'm referencing today for my daily blog post encouraging letter writing –
Dayton Daily News Posted: 10:22 a.m. Tuesday, September 18, 2018: Air Force celebrating 71 years as standalone military branch, By Max Filby – Staff Writer #AFBDay
USAF website @usairforce Air Force Birthday
AFTH451 USAF Thank You Notecard Pack, Blank Inside (8 Note Cards, 8 White Square Flap Envelopes) 4.25 x 5.5 (A2), image, excerpt 
I'm including a link to this previous post – AnchoredScraps Forever® Medal of Honor stamp debuts today 5-25-2015