It is easy to be Welcoming September 2018 Letter Writing today, especially with having three letters off at the Post Office by Noon today!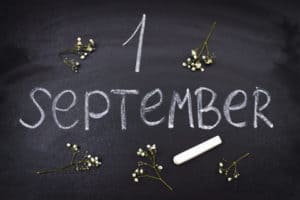 Happy September! This month finds us with five Saturday's. With this three-day Labor Day weekend it might be a great opportunity to consider writing one letter each week, perhaps writing one this weekend!
My "need to reply" stack is actually a stack now. I am determined to get caught up on my personal correspondence. Also, I am looking at the list of who has a birthday this month and queue everything up for September.
Here's to enjoying the weather and time together.

Anchors Aweigh,
Helen
---
Attribution & Thank you to the following who I am referencing today –
Image September 1. Chalk on a blackboard. Beginning, element. ID 103042372 © Olga Vorobeva | Dreamstime.com