ESCALA scale ruler fountain pen Kickstarter Underway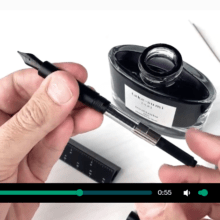 The ESCALA scale ruler fountain pen has a Kickstarter Underway; it is showing a gorgeous unique design by Ensso.
"Fountain pen with a cap that serves as scale-ruler for architects, engineers, and designers- graded with 12 metric and imperial scales."
First, the project funding campaign is underway until February 28, 2019, at 1 PM EST.  It launched on January 14th, just a few days ago.
Second, as of writing the post, "$5,651 pledged of $7,500 goal. 90 backers. 43days to go." 
Furthermore, the creator, "ENSSO is a design brand established in 2014 in Los Angeles, California."
They are showing a proven track record with this statement. "This is our 8th Kickstarter campaign so we are aware of potential problems and delays…"
"After successfully launching three writing instruments on Kickstarter, we are proud to present ESCALA; a scale-ruler fountain pen conceived for architects, engineers, and designers with 12 graded metric and imperial scales."
The Writing section of the Kickstarter really caught my eye. Given especially since I do not "speak" fluent fountain pen talk, I'm going to include this excerpt about the nib and ink converter.
"ESCALA is equipped with a German-made nib of the highest quality manufactured by Peter Bock Co. Nib sizes available are: fine, medium, and broad.

ESCALA comes with a Schmidt K5 ink converter to use with bottled ink. The pen also accepts short and long standard international ink cartridges."
The only big question I'm not seeing the answer jump out at me is what the plans are for future retail pricing.
In conclusion, with our letter writing, it is always of interest to see what unique pens are available.  To find this design combining a ruler with a fountain pen truly has my interest!

Anchors Aweigh,  
Helen 
---
Attribution & Thank you to the following who I am referencing today
ESCALA scale ruler fountain pen Kickstarter, image, excerpt
You may also enjoy AnchoredScraps Save the Chinese Typewriter Kickstarter 7-13-2016