January Celara Postcard by Karen Hallion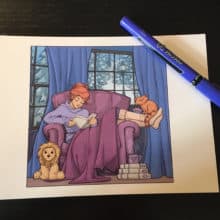 This January Celara Postcard by Karen Hallion is one I'm ordering this week! I'm including information on the Celara character from her illustrations introduced last year in her Kickstarter and links too.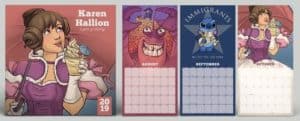 There is the 2019 Karen Hallion Art Calendar available at her Etsy Shop.
In looking around there was a 2018 Celara calendar Kickstarter project last year; it introduces Celara and has beautiful illustrations.
"Celara was a name was born out of my love of a series of books by author David Eddings. I took two of my favorite characters from those books and made a new name from them. Polgara and Ce'Nedra were combined to make Celara and it has been my alter ego ever since. I want every little girl who has been bullied for wearing a geeky shirt to know that they're not alone. And I want to celebrate what being a geek really is. Explain why we create fan art, participate in cosplay, and engage in dialogue discussing the minute details of the characters and stories we love. Celara is my homage to how we all connect with each other through these." 
Over at the khallion Etsy Shop, I'm enjoying seeing this January postcard.
The pricing is five dollars.
"Send a postcard to a friend or loved one! If you'd like us to mail a card for you, please include your inscription in your order notes and be sure that the shipping address is that of your recipient. We will add your message and a stamp to ship! (NO envelope)…
This listing is for a 5 x7 inch postcard. 

Art is copyright © Karen Hallion 2010…"
The January Celara Postcard by Karen Hallion really captures it being winter and tucked in reading. I'm sure there is a fountain pen nearby and a stack of letters too!

Anchors Aweigh,  
Helen 
---
January Celara Postcard by Karen HallionAttribution & Thank you to the following who I am referencing today
khallion Etsy, image, excerpt
2018 Celara calendar Kickstarter excerpt, image