Sterling Silver Envelope Charm Letter Locket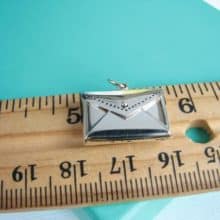 With a bit of whimsy and an EARLY hint towards Valentine's, we are looking at this Sterling Silver Envelope Charm Letter Locket.
This looks like a perfect gift idea with a nod towards letter writing. I'm also thinking how wonderful for giving as a gift idea for young women starting out with being Pen Pals (or for those of us still "young at heart"! I'll have more on this sentiment at the end of my post.)
Over at the Etsy shop, JanuaryGirlSupplies is the listing for eighteen dollars.
"Shape/Description: envelope; dot pattern on edge of envelope flap; closed jump ring
● Material: sterling silver
● Color: silver
● Manufacturer: unknown
● Size: 13 x 18 x5mm (without jump ring)…"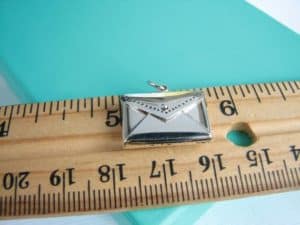 As we wrap up, maybe it is just me, but the background color choice in the photos have me thinking of Tiffany's!
Thanks for joining me today. Circling back to my earlier reflection on "young at heart", just adding that the older I'm getting the more I'm finding what I've been told all along to be so true, age is attitude and not a number!
It was a GREAT stamp club meeting earlier this evening which finds me inspired with several new blog topics we will be covering in the near future!

Anchors Aweigh,  
Helen 
---
Attribution & Thank you to the following who I am referencing today
JanuaryGirlSupplies, image, excerpt
You may also enjoy AnchoredScraps Whimsical Air Mail Postal Package Trinket Box 2-16-2018