Congratulations WordCamp Raleigh 2019 on their 10th Anniversary! My sincere thanks to the Organizers of the event for putting on a wonderful two-day event.
We are beginning with including this Tweet from WordCamp Raleigh earlier this afternoon. This evening I'm now back and before it gets hectic with a new work week making sure to stop and say Thank you!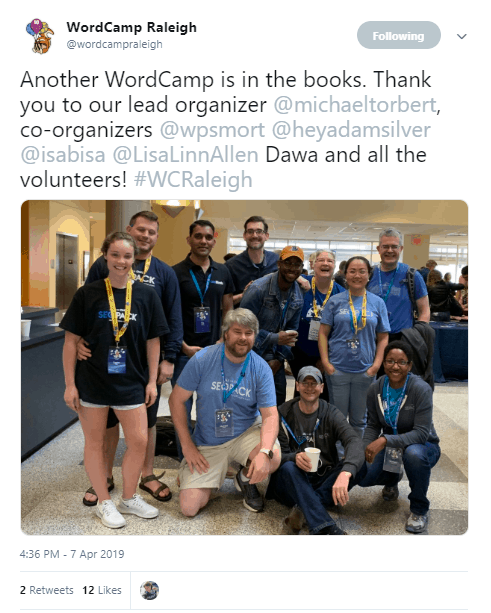 Next, here is one of my Tweets from today, this one is showing the closing remarks.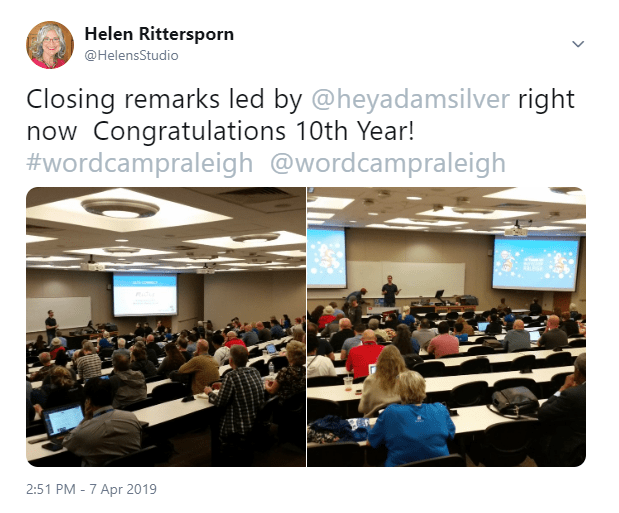 In addition, my sincere thanks to the Speakers who contributed their time to present at WordCamp Raleigh 2019! All of the sessions I attended were fantastic and helpful for me where I am in my WordPress journey!  And my thanks to the Sponsors, having their support makes it possible for the very affordable pricing for WordCamp. Being one of the Individual Sponsors for WordCamp Raleigh 2019 was a great experience and finds me planning on doing this again next year!
Getting to be at the event this weekend has been perfect timing. With Friday realizing the huge milestone of AnchoredScraps 1500 Daily Blogs, and announcing WP Olympia Training in that post, and to be with WordCamp buddies this weekend for WordCamp Raleigh 2019 has been fantastic!
Furthermore, think about going to an upcoming local WordCamp in your area. The 2019 WordCamp Central Calendar provides the current listing of events worldwide!
In conclusion, I'm going to be writing several follow-up letters to new people met and returning WordCamp buddies getting to see this weekend.
Congratulations WordCamp Raleigh 2019 on your 10th Anniversary!

Anchors Aweigh,  
Helen
---
Attribution & Thank you to the following I'm referencing today
WordCamp Raleigh
WordCamp Central
AnchoredScraps