Today I'm in awe and so happy for us to be Celebrating AnchoredScraps 1500 Daily Blog Posts!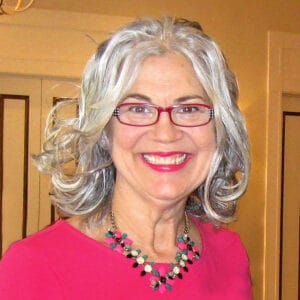 First, I'm so grateful for continuing to meet kindred letter writing enthusiasts through my daily blog encouraging old-style correspondence letter writing!
What I am mindful of today with 1500 daily blog posts is the consistency of how posting every day does add up and is amazing to me. The impact of daily consistency is similar to me with the discoveries from now losing over 70 pounds since June 2018, between posting my AnchoredScraps Daily Blog Post #1200 and #1500 today.
The photo I'm including is from January 2019 at a PEO luncheon celebrating Founder's Day 2019.
With today's blog, I'm also sharing I'm launching my business, WP Olympia Training, LLC. It is perfect timing for announcing it with today being AnchoredScraps 1500 Daily Blog Post and this weekend is WordCamp Raleigh 2019. I'll be up there for the event, not as a Presenter; however, my new business is one of the Individual Sponsors of the event.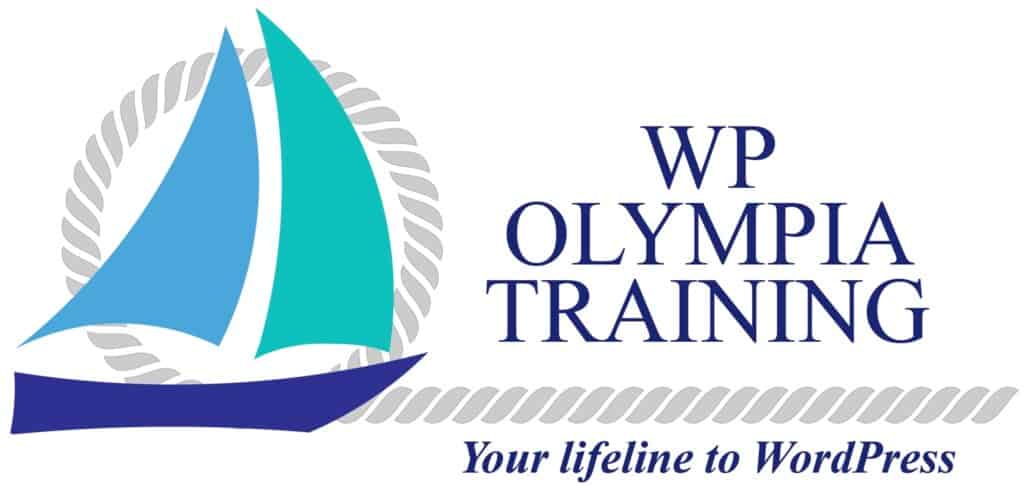 My sincere thanks to Richard Porcelli for designing the envelope cachet for 1500!

It is a joy to show below the First Class Mail and Postcard stamps through Stamps.com. They are showing the AnchoredScraps 1500 Daily Blog Post cachet by Richard, he had previously created the cachet celebrating the 1000th daily blog post too!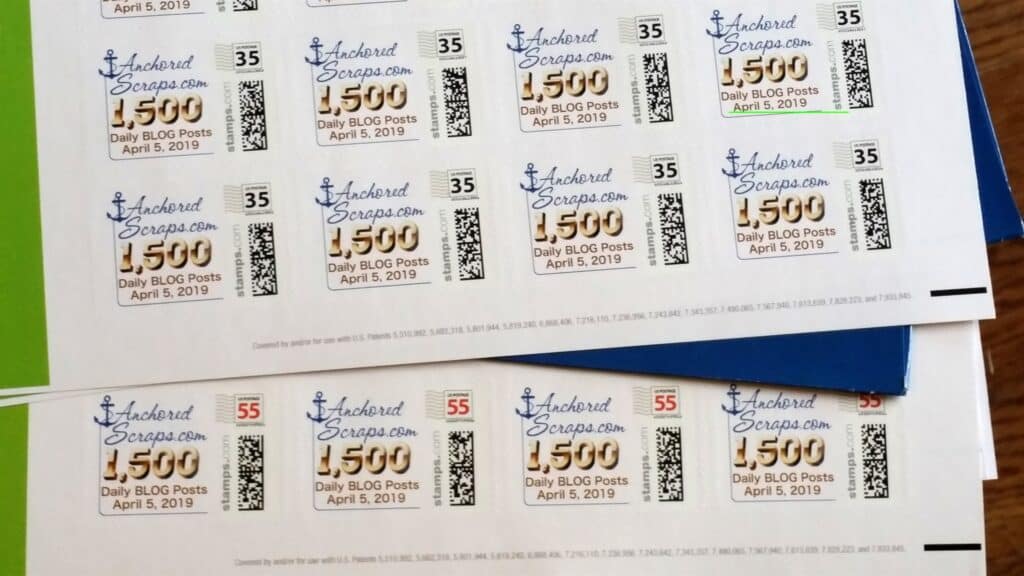 Thank you to my Pen Pals for their cards sent!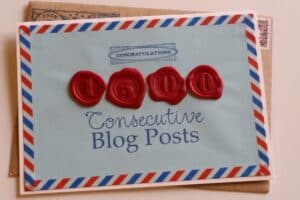 I'm including this photo of the card I received from Michele of her beautiful Congratulations card she made. Thank you so much, Michele!
Thank You!
My sincere thanks to Ellen, Tally, and Debbie, Vicki, Dara, Nancy, Susan, Brian, Peter, Jeanne, Susan, James, Joyce, Michele, Loretta, Karen, Julie, Jan, Jimmy, Bruce, Richard, John, Tim, Andy, Christine, Pam, Miranda, Cris, Kathy, Cathy, Melanie, Scott, Sara, my Mom, and all of AnchoredScraps email blog subscribers and Pen Pals; along with Wilmington Philatelic Society buddies, WordCamp buddies, PEO buddies, Pawville, my family near and far, and especially my husband and our family dog Cooper. If you are new to my blog, some of my daily blog posts include Cooper's antics – with him turning three years old later this month I expect there to be more!
Celebrating AnchoredScraps 1500 Daily Blog Post Today
For my new email blog subscribers, Welcome!  You'll want to especially read my first AnchoredScraps blog post below as it shares the inspiration, and background behind naming AnchoredScraps, along with the ongoing tribute to my Dad writing my blog brings, the impact of my reading Seth Godin for ten years almost every day encouraging action, and the clarity of Mack Collier's focus for why to blog.
Celebrating AnchoredScraps 1500 Daily Blog Post Today

Celebrating 1400 AnchoredScraps Daily Blog Posts Milestone
AnchoredScraps Daily Blog Post Number 1300 Milestone9-17-2018

AnchoredScraps 1200 Daily Blog Post Today

6-9-2018

AnchoredScraps 1100th Daily Blog Post Today
03-01-2018
AnchoredScraps Third Year Blogging Daily Anniversary
2-26-2018

StampSmarter Fantastic Website & Celebrating AnchoredScraps 1000th Daily Blog Post Today

11-21-2017

AnchoredScraps.com
900th Daily Blog Post Today
August 13, 2017
AnchoredScraps.com
800th Daily Blog Post Today
May 05, 2017

AnchoredScraps Second Year Blogging Daily Anniversary

2-26-2017

AnchoredScraps.com
700th Daily Blog Post Today
January 25, 2017
AnchoredScraps.com 600th Daily Blog Post Today
October 17, 2016
AnchoredScraps.com 500th
Daily Blog Post Today
July 09, 2016
AnchoredScraps.com 400th Daily Blog Post TodayMarch 31, 2016
One Year Blogging Anniversary
February 26, 2016
300th:
"The Christmas Guest"
December 22, 2015
200th:
"Celebrating blog post 200!"
September 13, 2015
100th:
"My Dad"
June 05, 2015
1st blog post:
"There's Been Talk!"
February 26, 2015
Join me tomorrow as we begin the trek to AnchoredScraps Daily Blog Post #1600!

Anchors Aweigh,  
Helen
P.S. Today is also the day our stainless steel dishwasher finally died so it is hand washing until the new model arrives hopefully in a week – stay tuned. And I'm sure there is a future blog post in there that has something to do with letter writing!
---
Attribution & Thank you to the following I'm referencing today
WP Olympia Training, LLC image
AnchoredScraps.com blog posts all written by Helen Rittersporn