This year we have, like last year, Cooper wishing us a Happy July 4 2019!
In addition, I'm including the previous four years of 4th of July posts.
Spotting Fireworks from the drive back into town
We were in Myrtle Beach today and although earlier found us driving back tonight in the pouring rain – we did get to see fireworks from afar!  It was appearing to be a total washout; however, driving on the I 40 bypass coming into Wilmington there were numerous cars pulled over to watch the fireworks here locally. And no rain in splotches of areas. We kept on driving, it was amazing how many cars there were. With writing a daily blog, it means for today I am posting this while we are still on the road, just came into more rain driving amid scattered thunderstorms!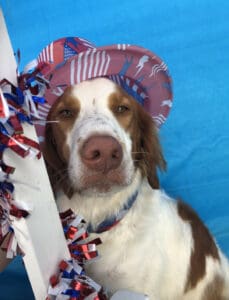 My thanks to Pawville SurfCity for the photo of Cooper I'm sharing today.
I'm including this listing of my previous AnchoredScraps 4th of July blog posts:
On behalf of Cooper, and all of us here at AnchoredScraps – Happy July 4 2019! Stay dry!

Anchors Aweigh,
Helen
P.S. Free card Friday is back at Hallmark for Crown Rewards Members.
---
Cooper's Happy July 4, 2019, Attribution & Thank you to the following who I am referencing today –
Pawville
AnchoredScraps posts listing above