We are looking at the Wreaths Across America Giving In July 2019 month-long effort underway. It is a month "… dedicated to the groups and individuals giving back in their communities while helping to share the mission to Remember, Honor and Teach."
Over the four-plus years of blogging daily, there have been numerous AnchoredScraps Wreaths Across America blog posts including July 15, 2015, Christmas in July – Wreaths Across America. In my blog post on Memorial Day 2019 Remembrance Reflections (May 27, 2019) it includes Wreaths Across America.
Wreaths Across America Giving In July 2019 Month Underway
"This year, more than 1,600 cemeteries will participate in National Wreaths Across America Day – Saturday, Dec. 14, 2019 – and more than 2,000 fundraising groups will work in their communities to raises funds and awareness to honor the local servicemembers with the placement of sponsored veterans' wreaths made of fresh Maine balsam. Through WAA's fundraising program the sponsorship of a $15 veteran's wreath from one of these groups ensure a wreath is placed in December at the location it supports, and $5 of that sponsorship goes to that group to support programs in their community. For those sponsoring wreaths through a group, they are in fact doing good twice!"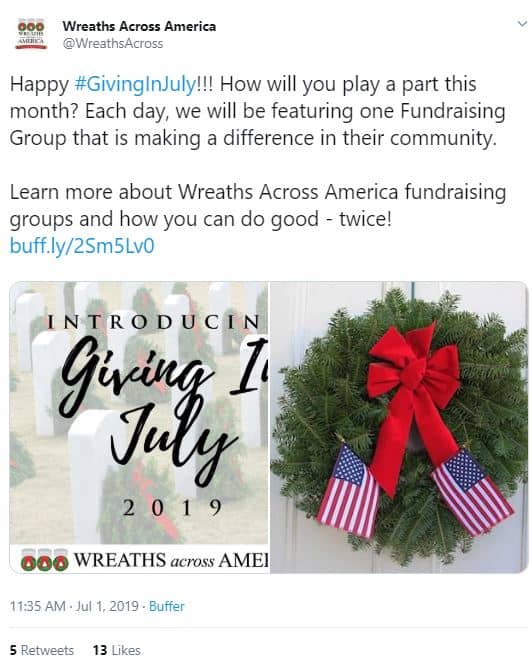 In addition, I'm including their kick-off Tweet about it on Monday.

Anchors Aweigh,  
Helen
P.S. Today is daily blog post #1592! The trek continues to 1600.
---
Attribution & Thank you to the following who I am referencing today –
Wreaths Across America website, Twitter
AnchoredScraps