The Schiffer Publishing Depression Glass Postcards paperback from 2005 is our Friday blog post topic. As an aside, can the time go by any faster than it has this week? How can it already be Friday?
Today, is 91319, making it Palindrome Day Number 4 out of the current 10 underway. Earlier this week I was sharing the dates between 91019 and 91919 are all palindromes. This "… happens when the day's date can be read the same way backward and forwards."  Thank you again, Jimmy, for sharing the terminology with me!
So here's the behind the scenes on why we are looking at these postcards today.  Recently I keep coming across white Fenton Hobnail accent pieces and have so far resisted starting a collection of them. However, today coming across the Schiffer Publishing Depression Glass Postcards paperback is another story! I have ordered the softcover paperback by Barbara and Jim Mauzy; it reflects my searching interests this week for a demitasse Spooner vase for holding eight demitasse silverplate spoons. Not to fall under the TLDR (Too Long, Didn't Read category), my online searching took me through finding even a silverplate bird finial Spooner sugar bowl and some with victorian era designs; however, I opted for an amber pattern glass ordering one. I'm going to have to get a photo when it arrives, hopefully, next week, and share in a future post.
Schiffer Publishing Depression Glass Postcards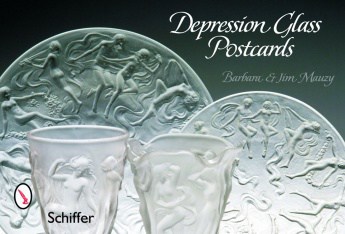 Over at Schiffer Publishing, I'm reading the authors, Barbara, and Jim Mauzy: "… have been collectors and dealers of Depression Glass and kitchenware from the 1920-1950s for almost twenty years."
The size of the postcards, at 5 1/4″ x 7″ makes for great size.
Furthermore, although I ordered my paperback over at Amazon, it is available at the full retail at the publisher. There are numerous offerings at a lower price which appeals to the frugal rationalizing helping to justify adding MORE postcards to my letter writing stationery stash!
"Forty colorful images explore the wonderful range of Depression Glass in a variety of colors and patterns that are widely sought after by collectors. These beautiful perforated postcards are ready to be detached and mailed to friends and family, or to frame and hang in your home. At only $14.95, the cards cost less than 40 cents apiece. This is the perfect gift for any Depression Glass enthusiast.
I'm looking forward to receiving my order and it is having me adding vintage kitchen collectibles as a postcard category!
The joy of receiving handwritten letters! 
On Wednesday the deluxe treat of receiving THREE handwritten letters, and one postcard, was fantastic! The extra bonus was these are all PenPals. I'm prioritizing writing my replies this weekend to keep up the letter-writing volley of back and forth for snail mail! It continues to be a reminder to me, that to RECEIVE snail mail I must SEND snail mail! I am encouraging you to write a letter this weekend!
Add to this, I do have a stack of letters awaiting replies from me – which at this point is embarrassing for how long overdue I am in responding! I'm needing to get caught up on my letter-writing this weekend – at least make a big dent into the stack! So if you have been THINKING you need to write some letters, you are not alone!
Join me tomorrow for my Saturday blog post. See you then!

Anchors Aweigh,  
Helen
---
Attribution & Thank you to the following who I referenced above –
timeanddate.com/date/palindrome-day
You may also enjoy AnchoredScraps The Art of the Paperweight, Boston & Sandwich Glass Company (2017), 7-27-2018; Sea Glass Variety Postcard Prints 6-10-2017; Crane Downton Abbey Stationery Collection 9-10-2019