We are saying Hello to the month of September with World Letter Writing Day 2019. I'm especially calling attention this year to his WLWD Sample Letter downloadable PDF. While the example is for sending to an address in Australia, the same formatting applies.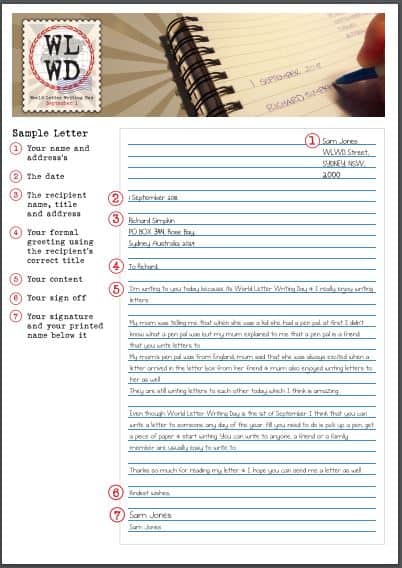 While I'm waiting for "delayed luggage" from the airlines with our returning this evening, I'm wanting to make sure we make note again this year of the World Letter Writing Day site worldletterwritingday.com.  It is by the website's founder Australian Author Richard Simpkin.
World Letter Writing Day 2019
In his tweet, he is suggesting we "take a break from social media today…"
His theme this year is writing Thank You letters to family members and friends.
He does a great job in his sample_letters page on his site of having a WLWD Letter Template for writing a letter.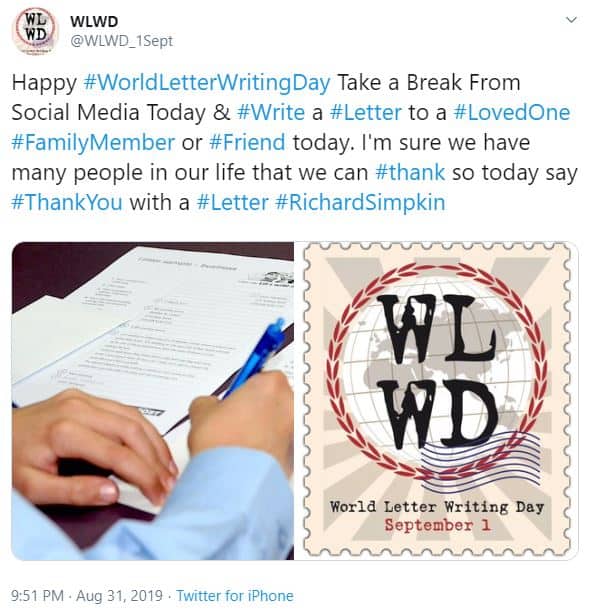 Richard Simpkin, Founder @WLWD_1Sept 2019 Tweet: "Happy #WorldLetterWritingDay Take a Break From Social Media Today & #Write a #Letter to a #LovedOne #FamilyMember or #Friend today. I'm sure we have many people in our life that we can #thank so today say #ThankYou with a #Letter #RichardSimpkin"
As we wrap up, seeing the WLWD Sample Letter PDF is inspiring me to add a similar PDF to my site for AnchoredScraps. I'll be sure to reference today's post and a link over to him when I add the page. I'm going to have to send an actual snail mail to Richard Simpkin and introduce myself!
Join me tomorrow as we begin the new week, with it being Labor Day 2019. See you then – and hopefully our luggage by then too!

Anchors Aweigh,  
Helen
P.S. Today is AnchoredScraps daily blog post #1649, we continue the trek to #1700! It continues to be a joy to be encouraging old-style correspondence letter writing.
---
Attribution & Thank you to the following who I referenced above –
WLWD
Previous September 01 AnchoredScraps posts