There is still time for participating in Homefront Hugs Holiday Letters and Cards with the deadline for receiving three weeks from today on December 8th. In my blog on Friday, we were looking at Operation Gratitude, and while both organizations accept letters of appreciation year-round, I was sad seeing their deadline is much earlier.
The following is from the Homefront Hugs Writing Troops page.
"Homefront Hugs is in its 18th year and we are the real deal. There is only one rule :

Never just sign a card . Make it feel like a real #HomefrontHug . We show you ways to write cards and letters here and even participate in a favorite project – Operation Pillow Hugs. (scroll down)

We always need your cards and letters for our hospitalized veterans and our deployed troops who need a smile and a touch of home in a handwritten card or letter. You can ask questions too and add an email address or address . You might even hear back !

In other words, we hope you will join us in sending real – heartfelt #HomefrontHugs to men and women who protect our freedoms or men and women who protected our freedoms in the past and are healing from wounds and serious illnesses now."
The Homefront Hugs Foundation has a one-page Writing Troops & Vets guidelines along with the address for sending available for downloading.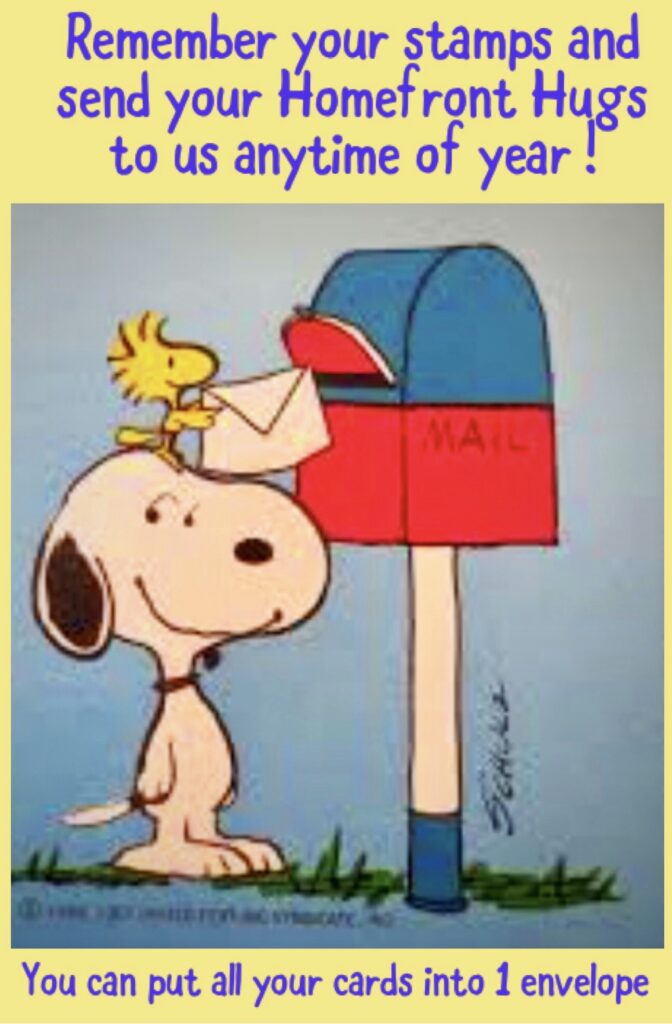 Thank you for joining me today. See you tomorrow as we kick-off the new week.
Anchors Aweigh,