We are Celebrating Letter Writing AnchoredScraps 1800 Daily Blog Posts today! It was fun creating the image for today's Milestone post.
Celebrating Letter Writing AnchoredScraps 1800 Daily Blog Posts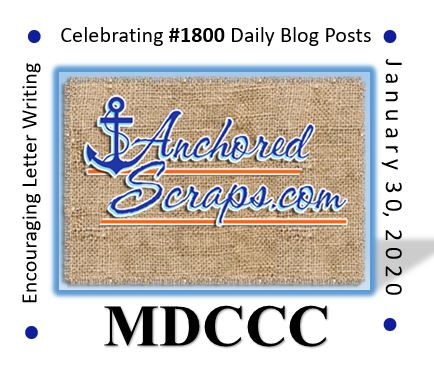 THANK YOU for continuing to be on this daily blog post journey with me.
A good part of the day has found me happily working on the new web design layout for the blog.  I'm optimistic about debuting it on February 26, 2020, which will be the 5th Anniversary!
The focus will continue to be encouraging old-style corresponding letter writing including postcards, stamps, fountain pens, typewriters, postmarks, stationery, personal organization, and other life interests and observations. 
It looks like the last time I was using Roman Numerals with the blog post count number was for 1300, on September 17, 2018. How amazing it is seeing how quickly the time continues to pass each day.
Furthermore, one of the things I'm doing with the new design is looking at embedding this quote of mine that appears with my AnchoredScraps Milestone Blogposts and I'm including here too.
"Any Tendency for procrastination must be contained within 24 hours each day…because the timestamp is going to occur regardless." – Helen Rittersporn, AnchoredScraps.com
In looking ahead, August 17, 2020, we will be celebrating #2000 in 2020!
Before closing, check out 2020 Valentine's Pictorial Postmarks in the Postal Bulletin today, I will be blogging about it soon; however, you may be wanting to get an advance look at them now for requesting.
Join me tomorrow as we close out the month with my January Recap. Again, my heartfelt thanks for being here with me.
Anchors Aweigh,  
Helen
---
Celebrating Letter Writing AnchoredScraps 1800 Daily Blog Posts Attribution & Thank you to the following who I am referencing today
USPS Postal Bulletin Issue 22538 1-30-20
AnchoredScraps – Blogging daily encouraging letter writing since February 26, 2015, by Helen Rittersporn