We have Paw Wax Seal Stamp for adding to our envelopes with letter writing today. 
And I'm including this photo of Cooper pawsing enjoying an impromptu 'pool pawty' at dog daycare today.  It is nice especially given we will be staying close to home in the coming days. 
My sincere thanks to Pawville Surf City for the photo today!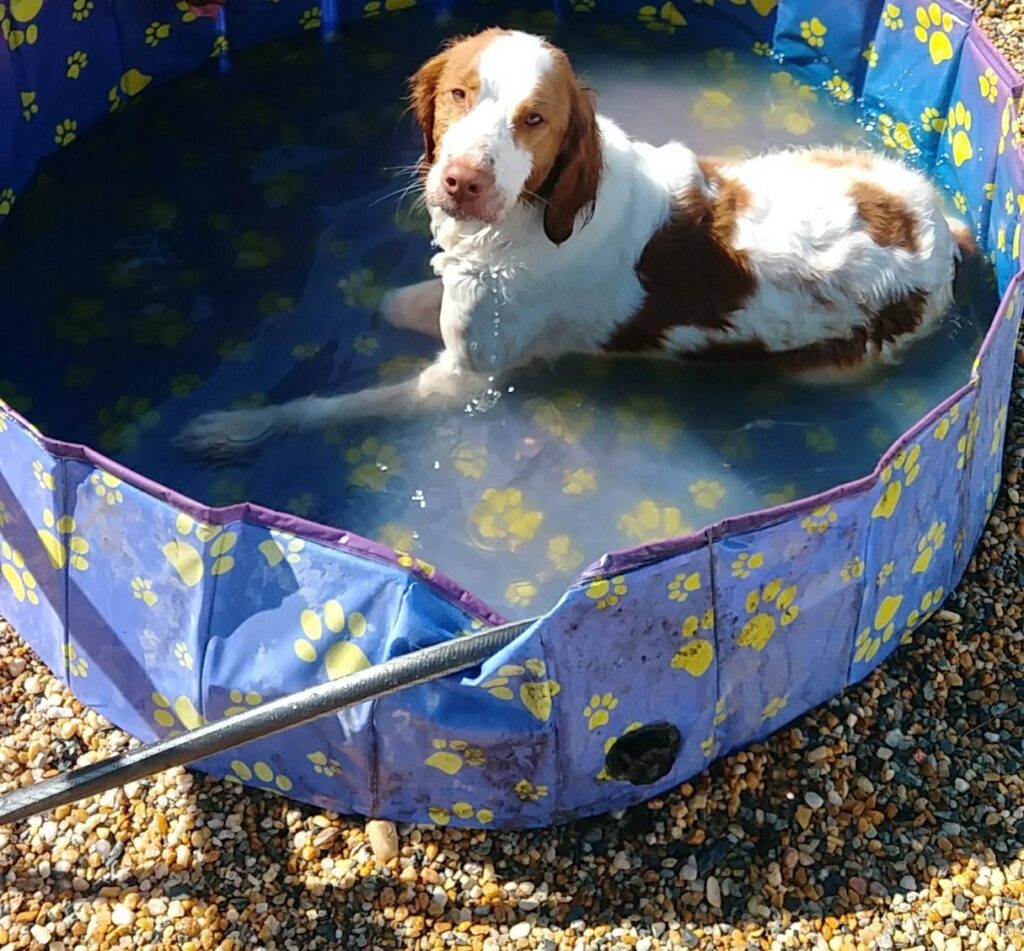 Paw Wax Seal Stamp by VenusEnvyPaper
VenusEnvyPaper specializes in Artisan Quality Handmade Wax Seals and has been on Etsy since 2012; is out of Auburn, California.

This is the second time I'm featuring them in a daily blog post here. My link to that post last year is below in the footer of today's blog post.
The quality is excellent. I have ordered from them before and love the quality of the wax seal design already being done and having peel-off adhesive on it.
"Paw handmade real wax seal. This little guy is cute! I use this seal when I know it is going to be given to an pet parent or animal lover. Sample shown in silver. Size is about 3/4 in x 3/4 in."
Furthermore, the description continues with these highlights.
"I can cast the wax into 3 basic shapes (see picture in listing). Please let me know if you have a preference in the comments, otherwise, I will make them as circular.

1 is circular… all will look alike
2 is wavy… a bit more organic
3 is very irregular… no two alike (I do not recommend mailing this)

Every single seal I offer is made individually by me and all by hand. I use real wax and only real wax. …

I take pride in making sure each seal is beautiful and near perfect as possible…

All of my handmade wax seals have a peel n stick back. ..

My seals can be used for applying to envelopes, tags, cards, scrapbooks, art journals, regular journals, bottles, candles, canvas, and the list is endless…"
Enjoy browsing and making the time for adding wax seals to a few letters this month!
Join me tomorrow for my Friday blog post!
Anchors Aweigh,  
Helen
---
Attribution & Thank you to the following who I am referencing today
Paw wax seal stamp by VenusEnvyPaper Etsy, 
Pawville SurfCity North Carolina Excellent Dog Boarding Kennel, my June 26, 2019 post on Celebrating presenting Cuddy's Pawville Quilt today

AnchoredScraps Summer Wildflower Wax Seals, July 7, 2019