There in my inbox today, was an email with news of introducing The Daily Dog Digital Devotional from Guideposts.  Should you be finding yourself, or someone you know dealing with outside stressors I'm hoping today's blog post will bring you a smile.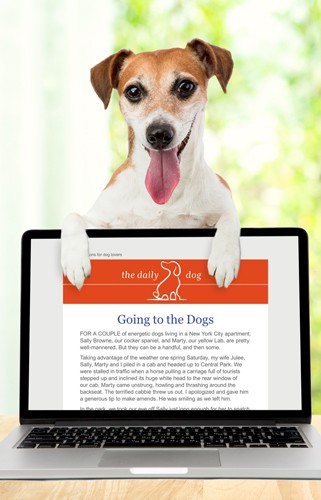 I'm realizing that as the longer the stay-at-home continues the more everyone is striving to keep our expenses down. The pricing here of $1.99 for it is for me a little splurge that I'll enjoy daily for 30 days. My plans are to read it to Cooper each morning! 
The Daily Dog Digital Devotional from Guideposts
A free sample is available for viewing of the 30 Dog Devotions by Edward Grinnan. 
"Dogs are God's gift to humans. They love us unconditionally. They teach us and guide us, they help us to be better people. And no one knows that better than Edward Grinnan!

To celebrate the special bond we share with our dogs, Edward created The Daily Dog – a unique devotional, available through digital download. In this all new devotional, Edward shares heartwarming and often humorous stories of Gracie, Millie and all the other dogs in his life. A thoughtful prayer rounds out each devotion."
Furthermore, from the "INTRODUCTION FROM EDWARD GRINNAN", it includes the following.
"… Each day I'll share a heartwarming, sometimes amusing and always uplifting vignette of life with my dogs that I know you will enjoy and identify with. From my boyhood poodle, Pete, to my current golden girl, Grace, each bite-size devotional has a little story with a spiritual lesson and a brief prayer. If you love dogs, I know you'll love The Daily Dog. —Edward Grinnan"
Thank you so much for joining me today as we continue this daily blog journey together. Plans are for posting my Sunday blog tomorrow earlier than usual, prior to working on my container garden – of course, all of this with Cooper's "help and supervision"! 
Anchors Aweigh,  
Helen
---
Attribution & Thank you to the following who I am referencing today
The Daily Dog Digital Devotional from Guideposts, SKU: 0110098195
You may also enjoy AnchoredScraps Thunder Dog book by Michael Hingson September 11, 2016