The USPS Drawn together coloring page is one of two blog idea submissions today we are looking at from AnchoredScraps email blog subscribers. My thanks to Ellen, and to Jimmy for sending them to me over the weekend.
USPS Drawn together Coloring Page – "Thank You Mail Carrier"
First, we are looking at the coloring page created by Earl Musick. He is "… a longtime illustrator and Postal Service employee in Eastern Area."
In the Link USPS News April 16 it is carrying the story about it: "Drawn together, Page celebrates employees, customers". Again, my thanks to Ellen, one of My Three Muses here at AnchoredScraps for sending me a copy of it from her trip to the Post Office on Friday, April 17th.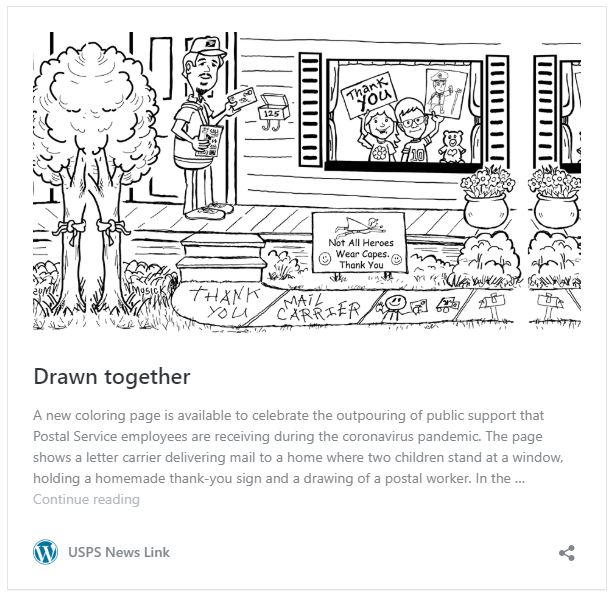 "A new coloring page is available to celebrate the outpouring of public support that Postal Service employees are receiving during the coronavirus pandemic.

The page shows a letter carrier delivering mail to a home where two children stand at a window, holding a homemade thank-you sign and a drawing of a postal worker.

In the front yard, a sign reads: "Not all heroes wear capes."

The page captures a unique moment in the life of the Postal Service: Across the nation, customers are leaving thank-you notes at their mailboxes, creating driveway chalk drawings and posting yard signs to thank USPS employees for their steadfast service. ...

To view and print Musick's newest page, click the image that accompanies this article, then select "Download" under the caption."
USPS stamps sales are up due to people staying at home
This next article is from Jimmy who sent over to me this weekend. I was so happy to get his email about it. It is definitely good for sharing here. I had seen it last week and glad for the reminder Jimmy!
"The United States Postal Service has acknowledged that sales of its stamps have been noticeably greater in recent weeks.The April 14 statement from USPS spokesman Roy Betts did not mention efforts on social media to boost sales of stamps, but it said USPS customers are using the mail in new ways during the current coronavirus COVID-19 pandemic.

"Over the past several weeks, the U.S. Postal Service has observed significantly higher stamp sales through our Stamp Fulfillment Services, particularly through the mobile friendly online Postal Store on usps.com," Betts said."  
I'm including the Link to Linn's article on USPS says stamp sales up during COVID-19 pandemic to read the entire article.
In closing, my continued thanks to both Jimmy, and to Ellen. Join me tomorrow as we kick-off the new week!
Anchors Aweigh,  
Helen
---
Attribution & Thank you to the following who I am referencing today
USPS Link Drawn together, April 16, 2020
Linn's Stamp News, Apr 15, 2020, 2 PM, By Bill McAllister, Washington Correspondent
You may also enjoy AnchoredScraps Stamp Out Hunger, May 7, 2015