Cooper is home and we are thinking of sand in July and finding the By the Sea Seashell Stationery. It is looking like a perfect letter writing note card.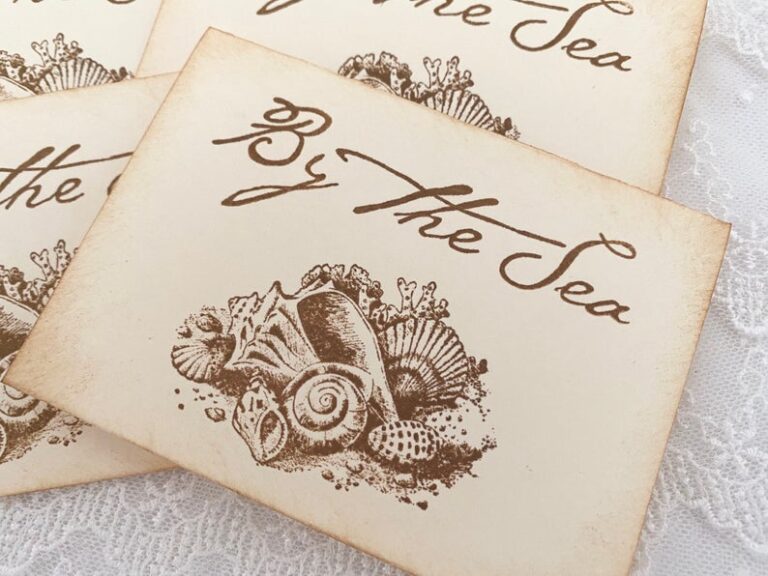 We are beginning with this set that arrives in the snail mail. It is not a digital file printable.
Next, I can see happily awaiting the arrival of the four-hand stamped beach themed folded cards upon ordering them.
MomentsOfBlessings Etsy Shop
By the Sea Seashell Stationery
The set is $9.95 Beach themed note cards with seashells set of four note cards sized 5 1/2″ x 4″.
"… ~Ivory cardstock …
~Chocolate brown ink
~Hand shaded vintage inspired edges
~Ivory envelopes included"
Thank you for joining me on this Sunday. I'm hoping your 4th of July was festive and enjoyable and you and yours are well. 
Here's to the new week ahead. Join me tomorrow as we begin a new week along with some fun blog news.
 Anchors Aweigh,  
Helen 
P.S. The countdown continues with today being daily blog post #1957 – en route to milestone #2000 on August 17, 2020!
---
Attribution & Thank you to the following who are referenced today
You may also enjoy AnchoredScraps Beach Music and 2017 Seashells Postcard stamps, January 28, 2017