The Credit Union Act Stamp 50th Anniversary of 1984 seems timely with today being July 15. Especially since with the adjusted date this year for the IRS tax filing due to Covid-19.
And not to get ahead of ourselves, we wrap up today's blog with remembering an applicable scene from the movie, It's A Wonderful Life.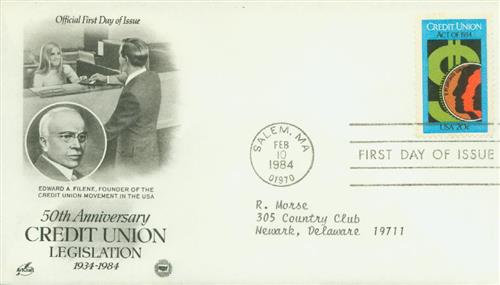 In addition, one of the envelope Classic First Day covers showing includes this First Day of Issue from February 10, 1984.

Credit Union Act Stamp 50th Anniversary 1984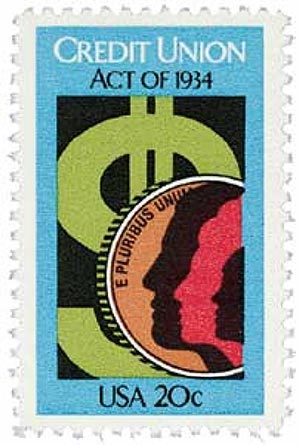 Over at Mystic Stamp their write up on the 20c stamp, #2075, includes the following.
"Commemorating the 50th anniversary of the Federal Credit Union Act, this stamp is the second issued in 1984 to have a dollar sign as a central design element. Prior to these two stamps, the dollar sign had not been used as part of the main stamp vignette."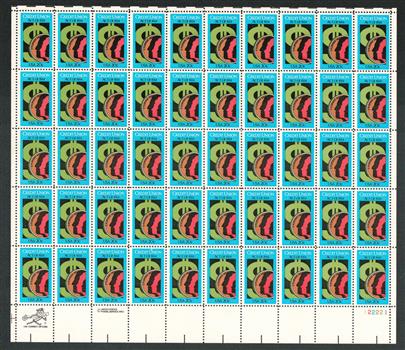 I'm including this Mint Sheet, and pricing for it is $45.00 for at Mystic Stamp.
One of the things I enjoy at Mystic Stamp is reading the background of stamps they feature.
If you have a few minutes there is a nice read with them at Mystic Stamp taking you through touching on several items. First, there is the Federal Credit Union Act of 1934.
And then it goes into the background of the Emergency Banking Act (EBA) in 1933 with President Franklin Roosevelt and about bank holidays.
Furthermore, and before closing, in reading all of this, what comes to mind is thinking of the character George Bailey from It's A Wonderful Life movie. While I know in that case it was their Building & Loan, still, there is the run on the banks going on in the film. Wow! Who knew looking at the stamp would have us end up with thinking of the movie?  Here's to looking forward to having our income taxes due on April 15 returning to that date in future years. 
Tomorrow is my Thursday blog post. See you then.
Anchors Aweigh,  
Helen
---
Attribution & Thank you to the following who I am referencing today
USPS #2075 at Mystic Stamp 20c 
You may also enjoy AnchoredScraps Vintage postcard Everybody should pay taxes … April 15, 2019