This morning the Whimsical Wednesday is a Favorite Summer Meals Letter Writing Prompt. It is Day 10 of the two-week challenge underway and our second Whimsical Wednesday in the series.
First, I'm wanting to recognize Vicki for the fantastic idea of naming the theme names of "Whimsical Wednesday" and with "Happy Monday" too! I sincerely appreciate her enthusiasm and for brainstorming with me. Especially with counting down to Milestone #2000 Daily Blog Post – which is now less than three weeks away!
You may notice a little different appearance for the printable button for downloading and printing the PDF file. I've been able to get this all squared away. Furthermore, all of the previous nine days of printable pdf buttons are updated.  Thank you to a certain email blog subscriber who yesterday was helpful in testing out one of the new buttons.
Whimsical Wednesday Favorite Summer Meals Letter Writing Prompt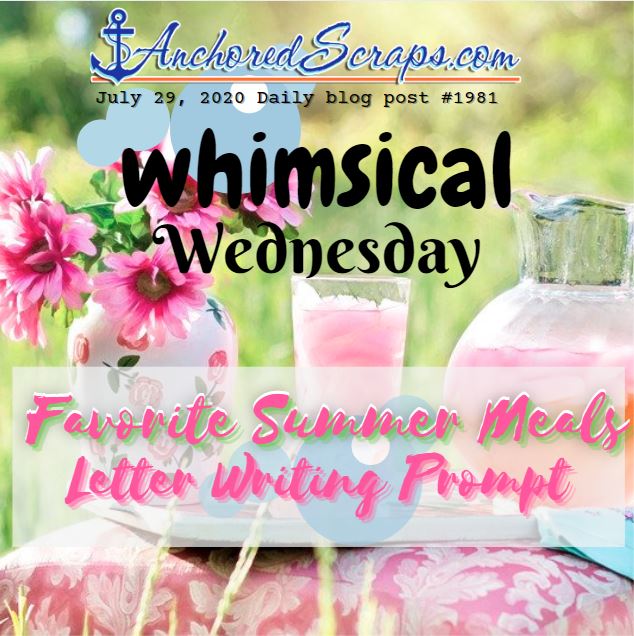 Here are a few ideas that may help with sharing about favorite summer meals.
Do your favorite summer meals center around what is coming from your garden?

Do you ever eat anything cold, Al Fresco?

Any seasonal recipes you anticipate all winter and now enjoy? 

Are any picnic friendly? 

Do you make lemonade from scratch or a mix? And what about iced tea, sun tea?
Enjoy!