You may or may not already be using the term "Adding to my toolkit" in your daily/weekly routine – but toolkit it is for looking at software to benefit us with productivity improvements.  By investing a little time up front we save a LOT of time later down the road.  
Are you already using ActiveWords ?  It can come in handy with your email (for starters!)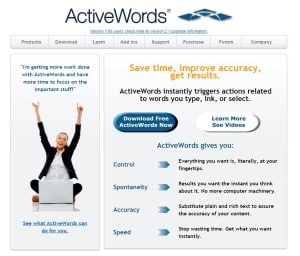 One of the books I am reading right now is "Unclutter Your Life in One Week" (2009) by Erin Rooney Doland (On Twitter @erdoland).  I had picked up my hard copy while out enjoying "In praise of vintage stores" and I was delighted to see ActiveWords listed as a tool worth using.
On the ActiveWords website I did not see a date the company was begun but I saw reviews posted in web search results going back several years.  (On Twitter @ActiveWords & Buzz Bruggeman, ActiveWords co-founder @Buzzmodo) 
There is this review from October 11, 2010 with glowing remarks with a Download Editor's Rating of 5 stars and "Spectacular" on Download.com.  (On Twitter Download.com Editors @DownloadNow)
From their Editor's Review: "ActiveWords is a nifty free program that does seven useful things when you type key words or letter combinations and hit the space bar. In fact, the developers believe program's seven categories make up the 80 percent of computing tasks in the 80/20 paradigm: Substitute Text, Launch a Program, Open a Document, Navigate to an Internet Site, Send E-Mail, Open a Folder, and Scripting. You specify your ActiveWords using quick, easy commands, and then associate the words with one of the seven tasks via simple wizards. It lets you create easy-to-remember shortcuts that do what you need most often: Type "addy," for example, and have ActiveWords fill in your entire address. Or launch a program by typing its initials. Open a Web site with a word you're typing anyway; a dictionary site, for example…."
There is a FREE ActiveWords for the Individual User version.  It will let you create 30 ActiveWords for free & includes over 125 free ActiveWords for the most popular US Web site.  And it says you can upgrade to ActiveWords PLUS when you are ready.
There is also a start out with the free version that comes with 60 days of the PLUS version.   And there is the ActiveWords Product Comparison
They have some helpful videos on their site to explain things.
This week I am trying out the free version and will let you know how it works for me by end of week.   Thank you to @erdoland  @ActiveWords  @Buzzmodo and @DownloadNow who are referenced in today's blog post.
Won't you consider trying out ActiveWords this week along with me?   Again, this is something to consider to help simplify our repeatable tasks so it frees up time for us – making more time for writing snail mail comes to mind!  Here's to a productive week!

Anchors Aweigh,  
Helen