On this Saturday at AnchoredScraps.com it is time to pause and be glad for coming across this posted Documentary on the Restoration of the 1960 film "Pollyanna".   No doubt you saw the Disney movie a long time ago with Hayley Mills and know the plot.    Most of the people I know are "the glass is half full" rather than "the glass is half empty" kind of person with their outlook on life.   
With the fast paced hectic schedule for most of us I thought it would be fun today to pause and enjoy this short 11 minute video – it was fascinating to watch the process they document for getting the colors correct on the film master.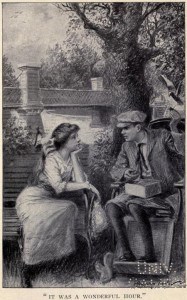 "Pollyanna:  someone who thinks good things will always happen and finds something good in everything" – Mirriam-Webster definition
At Project Guttenberg the books by Eleanor H. Porter are available for free viewing including: Pollyanna (1913) and the sequel Pollyanna Grows Up (1915).
From Wikipedia "Pollyanna's philosophy of life centers on what she calls "The Glad Game," an optimistic attitude she learned from her father. The game consists of finding something to be glad about in every situation. It originated in an incident one Christmas when Pollyanna, who was hoping for a doll in the missionary barrel, found only a pair of crutches inside.  Making the game up on the spot, Pollyanna's father taught her to look at the good side of things—in this case, to be glad about the crutches because "we didn't need to use them!" 
"Oh, yes; the game was to just find something about everything to be glad about – no matter what 'twas" – Pollyanna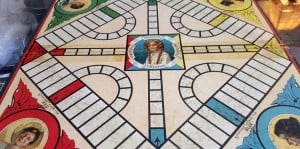 Note – It was fun to find The Glad Game on ebay for sale of "1915 Parker Brothers Pollyanna the Glad Game Board, pieces & instructions".  Wikipedia described the game as "a type of Parcheesi, was made and sold from 1915 to 1967 in various versions… The board game was later licensed by Milton Bradley but has been discontinued for many years."  
There are these three Links to check out:
Link to: Restoration of Pollyanna (1960) Documentary on YouTube.   <—It is a little over 11 minutes
And I would be remiss if I did not mention these two scenes from the movie –
In this scene: The use of refractive prisms and their light from them (think putting a chandelier crystal up and letting the light through it) – translated means "the sun comes through and paints a rainbow" – In the movie they end up taking the chandelier apart!
And in this scene: we see the chat between Pollyanna with the Minister (played by Karl Malden) where she mentions and so describes to him "The Glad Passages" (the happy ones) – referencing that her father had researched and discovered there are 800 "Rejoicing Texts" mentioned in

The Bible

to 'be glad and rejoice'.
From January 24, 2013 there is this blog post, Milly's Scribblings,  "The Rejoicing Texts" where after a day's research she found 138 verses which "either command us to rejoice, or describe people rejoicing in God" and mentions at some point she will keep adding onto her list.
"…if God took the trouble to tell us eight hundred times to be glad and rejoice, He must want us to do it – SOME.

"

 – Pollyanna
Thank you to @gutenberg_org, @Wikipedia, and Milly Jones who are referenced in today's blog post and for these YouTube postings linked to today by: TimeSpectator, AlxElizabeth, and blagal13.
"This is the day that the Lord has made; let us rejoice and be glad in it." – Psalm 118:24 English Standard Version (ESV)
I will be mentioning today's blog post in a few note cards I am writing this weekend and will then be getting them into the snail mail.
Time permitting I hope you will take a few minutes this weekend to enjoy watching this documentary and who knows may be it will inspire you to come up with your own version of The Glad Game – we will be glad we did!

Anchors Aweigh,  
Helen