Flintstones Mailman Episode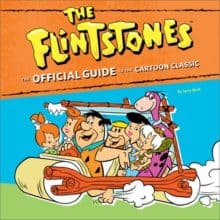 On this Saturday morning I am thinking cartoons so we've got The Flintstones Mailman Episode.
This particular episode of The Flintstones was selected for its obvious tie-in with letter writing here at AnchoredScraps.com.
If you recall there were wonderful Hanna-Barbera cartoons which if we rounded-them-up would find it including Scooby-Doo, Yogi Bear, Huckleberry Hound, The Jetsons, and of course The Flintstones – who were "the most financially successful network animated franchise for three decades, until The Simpsons debuted."  
Flintstones Mailman Episode
The Flintstones cartoon was "loosely based upon the popular live-action Jackie Gleason series The Honeymooners, yet set in a fictionalized stone age of cavemen and dinosaurs, the show ran for a total of six seasons, becoming a ratings and merchandising success."
From what I read about the episode – The Mailman Cometh – it was a cartoon remake of a similar episode of The Honeymooners which aired on November 14, 1953.  How amazing it is to see how coincidentally that episode was the title and topic of my May 9th blog post The Honeymooners Letter to the Boss.  
From IMDB I've included this description of this Flintstones episode – "When a promised raise doesn't come through, Fred dashes off an angry letter to the boss, then learns from Wilma that Mr. Slate came in person to explain that an error was made and Fred is to get his raise after all. Fred tries to retrieve his letter before the mailman collects it from the box." 
And get ready to hear him calling for "Wilma!" in this Opening and Closing Credits for The Flintstones.
Here's to a great Saturday – Yabba dabba doo!


Anchors Aweigh,  
Helen
---
Attribution & Thank you to the following who are referenced today Flintstones Mailman Episode
Image upper left Cover The Flintstones: The Official Guide to the Cartoon Classic by Jerry Beck Published March 29th 2011 by Running Press Goodreads.com
Excerpt Wikipedia The Flintstones, and Hanna-Barbera
Excerpt IMDB The Flintstones (1960–1966) The Mailman Cometh   Episode aired 23 March 1962; Season 2 | Episode 27
YouTube Flintstones – Opening and Closing Credits posted by joramma20; uploaded Aug 21, 2011
AnchoredScraps.com blog post The Honeymooners Letter to the Boss  May 09, 2016 written by Helen Rittersporn