New US Flag Stamp Arriving January 27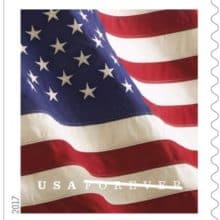 The New US Flag Stamp Arriving January 27 is our blog post topic today.  The new Flag stamp pricing will be at 49 cents.
Here's a chance to save your two cents per stamp by buying ahead! There is a planned rate increase for First-Class Mail Letters from 47 cents to 49cents.  The new pricing is scheduled to begin on Sunday, January 22, 2017.
The new stamp is to go on sale nationwide on January 27, 2017, with its issue taking place in Norcross, Georgia on the same day.
From the Stamp Announcement on December 22:
…"With the new U.S. Flag stamp, the Postal Service™ continues its tradition of celebrating patriotism with one of the most recognizable symbols of our nation. The stamp, sold in booklets of 10 and 20, coils of 100, and an ATM sheetlet of 18, features a detail from a photograph of the billowing Stars and Stripes."…
The Postal Bulletin has information on ordering First-Day-of-Issue Postmark and First-Day Covers.
Thank you for joining me today. The new booklet of the U.S. Flag stamp is definitely something I'll be wanting to get even with the price increase.  In the meantime, we can consider stocking up a little bit with the current pricing saving our two cents! 

Anchors Aweigh,  
---
New US Flag Stamp Arriving January 27 Attribution & Thank you to the following who are referenced today
Image above USPS ©2016 USPSStamps U.S. Flag from page 62 USPS Postal Bulletin –22457 (12-22-2016); Stamp Announcement 17-03: U.S. Flag Stamp
Image above Stamps.com October 21st, 2016. USPS Announces Postage Rate Increase – Starts January 22, 2017