Finding Neverland James Barrie Letters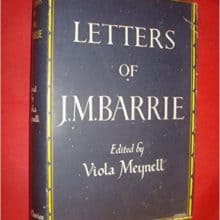 We are looking at Finding Neverland James Barrie Letters the Author of Peter Pan.  Today's blog post includes a book on his correspondence, and the Film and Musical Finding Neverland.
On this day, December 27th, in 1904 "Peter Pan, by James Barrie, opens in London."  
Letters of J.M. Barrie
I've been able to locate an edition from 1943 of Letters of J.M. Barrie, Edited by Viola Meynell.  The image shown is a Hardcover version.
And over at the J M Barrie website – it includes some of his letters posted in pdf.  One of the first links I brought up has him talking about almost finishing his "P. Pan" book in his letter to Turley!
Finding Neverland Film & Musical
Included in my DVD collection is Finding Neverland with Johnny Depp, Kate Winslet, Dustin Hoffman and Julie Christie. In a blog post last October on Cuddy, when he was so sick, I included a YouTube scene from the movie where Peter Pan talks about how important it is to believe.
"Do you believe in fairies? Say quick that you believe.
If you believe, clap your hands!"
– Peter Pan, Finding Neverland 2004
Here is the movie trailer.
The 2015 Broadway musical based on the 2004 film began the US national tour in October 2016. The site shows 2017 in London too.
In looking at the tour schedule it is a delight to see there are location options close enough to travel in 2017. Here's to making the time to plan attending an event like this in 2017!

Anchors Aweigh,  
---
jmbarrie website includes letters in pdf; link to a letter to Turley!
Image above cover www.abebooks.co.uk Letters of J.M. Barrie Cover_Edited by Viola Meynell Hardcover – 1943
FindingNeverlandTheMusical Tour Schedule
Wikipedia Finding Neverland (musical)
YouTube Finding Neverland (2004) Official Trailer – Johnny Depp, Kate Winslet Movie HD posted by Movieclips Trailer Vault Published on May 15, 2014
Quotes Finding Neverland [2004]
AnchoredScraps.com blog post: Paws-ing for Curtain Call October 31, 2015 by Helen Rittersporn.