Edith Wharton 1980 stamp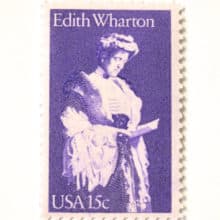 On this Tuesday morning, our blog post is on the Edith Wharton 1980 stamp; she was born on January 24, 1862.
In 1921 Edith Wharton was the first woman to win the Pulitzer Prize for literature for "The Age of Innocence".  The book was adapted into a movie in 1934 starring Irene Dunne and John Boles.   You are probably thinking of the 1993 release of the film starring Michelle Pfeiffer, Daniel Day-Lewis, and Winona Ryder.  The thing I still remember most about that movie are the narration sequences by Joanne Woodward.
Edith Wharton 1980 stamp
The Edith Wharton 1980 stamp, 15¢,  is part of the Literary Arts Series of US stamps.  One can still pick up unused stamps to use with your postage over at Mystic Stamp Company, and I saw some over at EdelweissPost, they are available in a set of 10 at his Etsy store.
I'm including this seven-minute video on "The Mount: Edith Wharton's Estate in the Berkshires".  Be on the lookout when you watch it for around 3:41 into the video, it looks like a fountain pen with ink well on the silver dish on her desk.

Today is my AnchoredScraps daily blog post #699. Join me tomorrow for #700!
Here's  to wishing a great Tuesday ahead – hope-it-includes-for-you-letter-writing-today! 

Anchors Aweigh,  
---
Edith Wharton 1980 stamp Attribution & Thank you to the following who are referenced today
EdelweissPost Etsy Store Image above Edith Wharton 1980 stamp @USPSStamps – "10 Unused Vintage Purple Postage Stamps // Author Edith Wharton // 15 Cent Vintage Stamps for Mailing"
Image above #1832 1980 15c Edith Wharton;  Classic First Day Cover  Mystic Stamp Company