2017 St Patrick Pictorial Postmark Available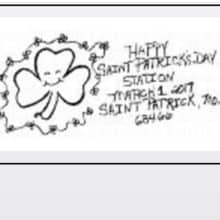 It is not too early to send off your envelopes now that the 2017 St Patrick Pictorial Postmark Available is here for the entire month!
Doing this last year was so much fun and enthusiastically received by the friends and family I sent my cards to for St. Patrick's Day.
For the instructions on how to send away, this link will give all the details at the USPS Postal Bulletin.
… "Customers wishing to obtain a postmark must affix stamps to any envelope or postcard of their choice, address the envelope or postcard to themselves or others, insert a card of postcard thickness in envelopes for sturdiness, and tuck in the flap. Place the envelope or postcard in a larger envelope and address it to: Pictorial Postmarks, followed by the Name of the Station, Address, City, State, ZIP+4® Code, as listed below." …
It is available March 1–31, 2017.
This is the address:
The Shrine of Saint Patrick
Happy Saint Patrick's Day Station
Postmaster
111 West Commercial
Kahoka, MO 63445-9998
Consider doing something like this to your envelopes this year when you send your St. Patrick's Day cards.  This is definitely something I'm doing again this year and so happy to have plenty of advance time to get these off into the mail.
Happy Thursday!

Anchors Aweigh,  
---
2017 St Patrick Pictorial Postmark Available Attribution & Thank you to the following who are referenced today
Link to Pictorial Postmarks Announcement USPS Postal Bulletin 22461, 02-16-2017
Image above from last year, photo by Helen Rittersporn. St. Patricks Day Special Fancy Postmarks, March 04, 2016.