The Easter Promise by Gail Rock on DVD 1975 CBS TV Special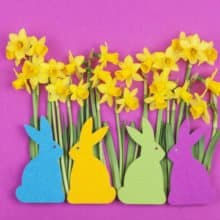 This morning I was able to finally sit down and watch on DVD from 1975 the CBS TV Special The Easter Promise by Gail Rock, from the Addie Mills series of books.  At the beginning of March, I had found the DVD listed on Amazon and ordered it, it was released on DVD in 2015.
The movie takes place in 1947 in Nebraska when Addie is 12 years old.  Included among the scenes of taken for granted life in their small town is seeing the navy blue U.S. MAIL box in the middle of the town for mailing your letters.  In one of the scenes, Addie's widowed father recalls seeing a person at the Post Office in catching up and hearing town news.
One of the things I enjoyed about this movie was how a key scene could begin with looking at a felt version and fading to it in real life and vice versa could conclude a scene fading from real life to a felt version.
Each felt scene truly looks hand pieced together of felt. As the movie begins we hear our main character Addie who is narrating, and with an older voice, reminiscing and includes "To me, Easter always meant sewing a new Sunday dress…". She goes on to talk about the Easter she remembered best was in 1947, she "met someone that spring who gave Easter a special meaning for me."
The movie stars Jason Robards, Mildred Natwick (who plays Grandma Mills), Lisa Lucas, (the three of them are pictured there on the left on the DVD cover) and  Jean Simmons who plays Broadway actress Constance Payne back home for a visit. In doing the math of her age at the time of making the movie Ms. Simmons would have been 46 years old and is still strikingly beautiful.  If you ever saw the 1983 miniseries, The Thorn Birds, she played Meggie's mother, Fee Cleary.
This afternoon while making deviled eggs to take with us to Easter Dinner tomorrow I was trying to place where I had seen Mildred Natwick before, with such a distinctive voice and of course, if you have seen the John Wayne movie, The Quiet Man, she plays the role of the Widow Sarah Tillane.  My first blog post here, "There's Been Talk!",  includes mention of that movie.
Watching a scene of a girl's fashion show of dresses they each sewed themselves had me smiling remembering at age 11 my taking the Singer Sewing class that summer and modeling it at the class graduation, I still have the newspaper clipping in my scrapbook, winning 3rd place.
Addie befriends Jean Simmons character and invites her to be a judge at their upcoming fashion show. There are a series of events and fast forward we hear a dismayed Addie wanting to give up on her new friend in talking with her grandmother who gives advice. It is in this scene we have the heart of the movie message about Easter, that Easter brings with it the promise of a new life and there is always hope.  "Spring's like the Lord's trying to show us there's always hope", she says and shares we are never too old to change.
Later as the movie wraps up, and the scene fades to its felt version, we hear the voice of the narrator, an older Addie, sharing her remembering the lessons she learned from Ms. Simmons character, to not let your dreams slip through your fingers.
If you get the opportunity to view the movie I hope you will.
There is a fan page, AddieMillsFlyingDreams.org, I came across this afternoon that is devoted to the Addie Mills series of books. It has a full listing of the books and tv specials including The Easter Promise. Spoiler alert – it will provide more details to the plot than I've shared here.  The nicely done site has timelines and even newspaper reviews of the movie from when it was first aired on CBS.
Thank you for joining me today as we continue our Easter themed blog posts getting ready for Easter tomorrow.  As a reminder be sure to go look up the map directions to where the sunrise service is if you are thinking about it for tomorrow morning, get the map now so you'll be all set!
---
The Easter Promise by Gail Rock Attribution & Thank you to the following who are referenced today —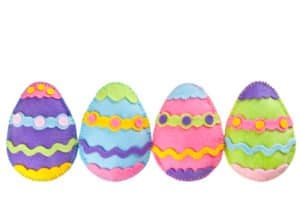 The Easter Promise by Gail Rock, Image of DVD cover, and felt scene from opening scene.
Image above © Tunedin61 | Dreamstime.com – Colorful Felt Easter Bunnies In Front Of Daffodils Photo
AnchoredScraps.com daily blog post: "There's Been Talk!", February 26, 2015, by Helen Rittersporn