Call for participating 50 States Postcard Exchange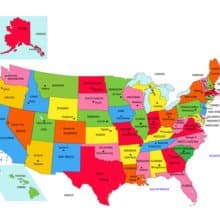 Happy Wednesday morning, May 10th, with today's daily blog post which is a Call for participating 50 States Postcard Exchange.  
Special thanks to AnchoredScraps.com email blog subscriber Julie who shared the below request she saw from a colleague.
"Our St. John Kindergarten class needs your help! We are nearly done learning about our "50 Nifty States," and we are hoping to get a postcard from each state. The postcards have started to come in, but we still have many states to go!

Please share this with others to help us get all 50 by the end of May!

If the senders can include a fun fact on the postcard, that would be great!

Postcards should be mailed to:
St. John Kindergarten
501 W.Park Ave.
Libertyville, IL 60048

Please share this information with others and thank you for your help!"
U.S. State Map Postcard Set
Over at Amazon, there is a set of "50 modern post card variety pack. Illustrated postcards with maps of all fifty states of the United States of America."  They are sized 4 x 6 inches. The set is listed at $17.98.
Thank you for considering sending a postcard off to this class!
You may have noticed this morning I'm posting my daily blog post extra early. Today is my birthday and I'm off work today; the day finds me planning to be disconnected from technology – at least for most of the day!   Happy Wednesday!

Anchors Aweigh,  
Helen  
---
50 States Postcard Exchange Attribution & Thank you to the following who are referenced today
Image above USA 50 States with State Names ID 27826090 © Gloria Rosazza | Dreamstime.com
Amazon.com U.S. State Map Postcard Set, image and excerpt.