Stamp Out Hunger Food Drive 2017 May 13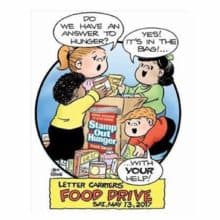 In the mail this afternoon, there it was – the grocery bag for Stamp Out Hunger Food Drive 2017 which is tomorrow, on Saturday, May 13th. The bag this year is blue!
For the past two years I've included blogging about the Stamp Out Hunger Food Drive, in 2015, 2016, and now this year for 2017!
"To donate, just place a box or can of non-perishable food next to your mailbox before your letter carrier delivers mail on the second Saturday in May."
"Every second Saturday in May, letter carriers in more than 10,000 cities and towns across America collect the goodness and compassion of their postal customers, who participate in the NALC Stamp Out Hunger National Food Drive — the largest one-day food drive in the nation.

Led by letter carriers represented by the National Association of Letter Carriers (AFL-CIO), with help from rural letter carriers, other postal employees and other volunteers, the drive has delivered more than one billion pounds of food the past 24 years. …"
I'm including this Tweet from U.S. Postal Service today.
Tomorrow May 13, help us collect cans and other non-perishable food items for local food banks. #StampOutHunger pic.twitter.com/Puv6nGILNu

— U.S. Postal Service (@USPS) May 12, 2017
Thank you Letter Carriers!

Anchors Aweigh,  
Helen
---
Stamp Out Hunger Food Drive 2017 Attribution & Thank you to the following who are referenced today
Image above upper left of Family Circus USPS at USPS.com and Excerpt.  "About Stamp Out Hunger food drive – Feeding America's hungry — learn how you can help." http://about.usps.com/corporate-social-responsibility/nalc-food-drive.htm
@USPS Twitter May 12, 2017 Link above
AnchoredScraps.com daily blog posts:  May 13, 2016 –  Stamp Out Hunger Food Drive Saturday May 14; May 07, 2015 – Stamp Out Hunger; by Helen Rittersporn