Etsy Thankful Tree Printable by Bloomington Design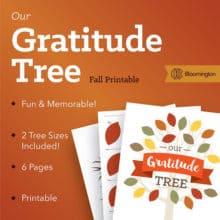 This is the first time I have seen this Etsy Thankful Tree Printable by Bloomington Design. Today is a week from Thanksgiving 2017 and it is a delight to find this printable that I can begin using immediately.  Think of the many ways one can weave these items into our letter writing!
Today is daily blog post #995 since launching the site on February 26, 2015. The countdown continues to 1000 on Tuesday, November 21, 2017!
Etsy Thankful Tree Printable by Bloomington Design
The pricing for this is $2.99 and is an instant PDF download at Bloomington Design. The download process is very easy.
"Our Gratitude Tree" is a fun but meaningful fall activity printable for the entire family. Included in this instant PDF download are two different sizes of trees (8 ½" x 11″ and 11″x17″) that allow you to construct a 'Gratitude Tree' as well as two pages of different sized leaves for you to cut out.

Once your tree is hung on the wall, you and members of your family can write things you're thankful for on the leaves and stick them to your tree. The tree can accept about 40 leaves. When your tree is finished you'll have a decorative memorial to the many blessings your family has enjoyed over the past year."
With this Thanksgiving Season upon us, I'm happy to have found this Etsy Thankful Tree Printable now!  As a reminder, you really want to get your Thanksgiving cards and letters in the mail tomorrow if possible to get them out going into the weekend!

Anchors Aweigh,  
Helen
---
Attribution & Thank you to the following I'm referencing today for my daily blog post encouraging letter writing –
Etsy Thankful Tree Printable by Bloomington Design, Images, excerpt. Gratitude Tree / Fall Printable / Thanksgiving Printable / Tree Wall Art
You may also enjoy AnchoredScraps Thankful Stationery, 11-19-2015 by Helen Rittersporn