Retro Steampunk Fountain Pen Postcards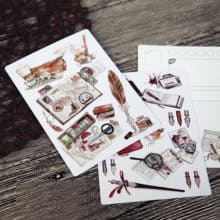 The design of these Retro Steampunk Fountain Pen Postcards has found me already ordering them and now awaiting their arrival! My letter writing will enjoy getting to share these with a few Pen Pals!
Over at Etsy, The Stationery Life site, it listed this set of 4 "Fountain Pen Steampunk Hand Illustrated Vintage Retro Victorian Fountain Pen Ink Scrapbook Postcards!"
Retro Steampunk Fountain Pen Postcards
Apparently, this was the only remaining set they were offering, which I found myself purchasing yesterday!
"These postcards are limited edition and once they're all been sold, there will be NO MORE. Unfortunately, the couple that designs these only runs a limited amount. Once they are gone, they're gone forever."
From their description:
"GORGEOUS Hand Illustrated Postcards! You will receive all four in the set. These are so gorgeous that they are perfect for framing to place on your desk, work space or wall! Or, you can use them as intended and send a postcard to your pen pal or bestie!"
On this Thursday,  Congratulations to the Houston Astros for winning game 7 last night becoming the World Series 2017 Champions!
Tomorrow will be more with Fountain Pens in the theme of my daily blog post! Stay tuned!

Anchors Aweigh,  
Helen
---
 Attribution & Thank you to the following I'm referencing today for my daily blog post encouraging letter writing –
Retro Steampunk Fountain Pen Typewriter Postcards, Etsy, The Stationery Life site.
You may enjoy reading AnchoredScraps Letter Writing: Vintage Steampunk Typewriter Keyboard 1-12-2017 by Helen Rittersporn.