New Retro Style Vintage Travel Posters postcards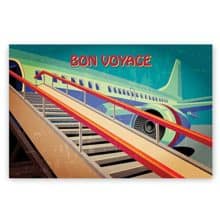 On this Sunday afternoon, my letter writing pursuits find these Vintage Travel Posters postcards retro style postcards by Postcard Fair interesting.
Today marks #991 – 10 days from daily blog post #1000 which will be on November 21, 2017! If you are new to my daily letter writing blog this is the number of days since launching AnchoredScraps.
Vintage Travel Posters postcards
If Postcard Fair sounds familiar to you, back in January we looked at Postcard Fair Mailbox Postal Postcard Set.
There are 20 postcards in the set.
"Our postcards are printed on 16 pt (360 gsm) premium quality cardstock. The postcards are UV-coated on the front side for durability and protection. Size 4 x 6 inches (10 x 15 cm). Printed in USA."
Join me tomorrow as we kick off the new week. In the meantime I'm hearing the sounds of travel in the background!

Anchors Aweigh,  
Helen
---
Attribution & Thank you to the following I'm referencing today for my daily blog post encouraging letter writing –
Postcard Fair VINTAGE TRAVEL POSTERS postcard set of 20. Post card variety pack of retro style poster postcards. Made in USA.
AnchoredScraps Postcard Fair Mailbox Postal Postcard Set 1-21-2017