This 1977 Rural Mailbox Christmas stamp I'm seeing in a listing of Contemporary Christmas Series by the USPS.  Writing a daily blog post encouraging letter writing, I'm partial to stamps with mailboxes!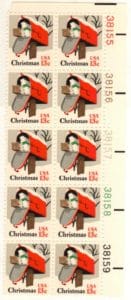 How wonderful it is to see this stamp showing snow with a stuffed mailbox of packages and letters. I can see myself waiting along with the packages to see the cheer they bring with their opening.   Before giving the details on this stamp, I'm wishing a warm welcome to several new email blog subscribers here at AnchoredScraps!
1977 Rural Mailbox Christmas stamp
Over at Mystic Stamp Company, US #1730 is the 1977 Rural Mailbox Christmas stamp.
"In 1977, the Contemporary Christmas stamp pictured a snow-covered rural mailbox brimming with cards and packages. Rural mailboxes came into use in 1896 and represented a new link for isolated farm families with the rest of the world."
In the future, I will be covering more of the stamps in this Contemporary Christmas Series, and Traditional Christmas Series of stamps too; I'm already seeing some of the Christmas stamps we have covered here previously included among those two series.
One of the things I love about stamp collecting is the large variety and the personalization special touch it adds to my letter writing to friends and family. Have fun browsing these series (links are below)!

Anchors Aweigh,  
Helen
---
Attribution & Thank you to the following who are referenced today